Foreword:
We never could have achieved this goal (or any other goal in our lives, for that matter), without the help and support of our family.  We are the two people that are living in this house, but it was bought and built with the love and time and money that it took to help us go from high school sweethearts to a happily married couple in our first house. 
To Frank, Karleen, Kellee, Danielle, Lexy, Alex, and all the rest: Thank you.
If you couldn't tell, I have always been a bit of a free spirit.  I have never been one of those people who desperately wants to buy a house and settle down. In fact, I have always wanted to do the opposite.  Renting meant no responsibility, not being tied down to any location, and the freedom to travel the world without worrying about a water leak or a power outage. However, the other side of that coin, which I quickly came to realize, is that having a home base to return to after adventuring some far-flung corner of the world, is one of the best feelings ever.  There really is no bed like your own, as they say.
So we started our search for a place that felt comfortable, peaceful, and that we would be excited to return to no matter where we were.
First, A Little Background:
Before this house, we were renting a lovely condo in the Koreatown neighborhood of Los Angeles (which we loved).  But we were on a super busy intersection with traffic noises that never stopped and windows that couldn't be opened due to the noise and the dirt. We were completely surrounded by concrete everything.
We both said, "Wouldn't it be nice if we had a yard where we could eat dinner outside in the evenings and sleep with our windows open at night?"  This may sound ridiculous to my Washington friends, but these two things are nearly impossible to find in Los Angeles.  Also, we both grew up in old Craftsman style houses, and we knew that we wanted a house in that style with some old character.  Other things that made the must-have list: more than one bathroom and at least one guest room and parking for two cars.  The dream list included things like a garage, storage such as an attic or a basement, and a staircase. I don't know why, but I was obsessed with the idea of having a beautiful staircase that I could decorate for Christmas.  With a style in mind and a wish list in hand, we decided we would make buying a home a priority in our lives (even if that meant putting some of our travels on hold while we saved money).
Next, The Search:
Los Angeles is one of the most competitive housing markets in the country, so we knew we were in for a battle.  I'll spare you most of the details of the search, but what it really came down to was we found a place that no one really wanted.  The house was going to need a lot of work (think cracked walls, peeling paint, missing fixtures, and popcorn ceilings).  When we first saw it, it hadn't been maintained for months.  In fact, it hadn't even been staged for sale.  As we were walking through the overgrown front yard, we almost turned around.  But thirty minutes later, we walked out knowing it was something special.  With a little bit of work (John grew up on a farm so he's very handy), it could be exactly what we wanted.
Finally, The Deal:
We just have to add that we had the best real estate agent in the entire world.  Scot found this diamond in the rough, negotiated the deal (not above asking price, which is unheard of), and won us our dream house on the very first try.  Yep, you read that right, one offer, one house.  He was there with us every step of the way, taking care of all the things that we didn't need to worry about, and making sure that we had every single base covered before me made this leap.
Without Further Ado, Our House:
The house is an original 1913 Craftsman in the Mid City Heights neighborhood of Los Angeles. It has 3500 sq ft, four bedrooms (one we have converted into a TV room), 2.5 bathrooms and a detached converted garage. Most rooms feature original built-ins and cabinetry, with original hardware and fixtures.  Though it had fallen into disrepair, the owner prior to us was an acclaimed celebrity interior designer who was meticulous about RESTORING this home instead of just a quick flip, which we saw a lot of in our search. The home features original floors and tile, coffered ceilings, and ornate crown moulding.  And you guys, It has TWO staircases. Yay!
So for the past year we have been renovating, decorating, and creating, to make this place the comfortable, peaceful home of our dreams. The place that draws us back and centers us no matter where our lives, our travels, or our dreams take us.  But as I mentioned before, getting there was going going to take some work.  With the exception of the exterior paint job we have done all of the work ourselves. We patched and painted literally every interior wall, we installed new windows, built the outdoor pergola, installed new light fixtures, remodeled the kitchen, and did the interior design. (and by we, I mean mostly John with my direction, of course).
So let's get started on a little photo tour, with some bonus "before" pics thrown in so you can see the transformation.
The Outside:
The exterior of the home is where we recruited the most outside assistance. The house was in desperate need of a new paint job and shingle repairs. We decided to paint the front door something inviting and pick colors with a bit more contrast. Previous to our paint job it looks like the house was originally a bright green. When we moved in, it was grey with blue and red trim!  And with a little bit of work, we realized that the landscaping also started to take shape.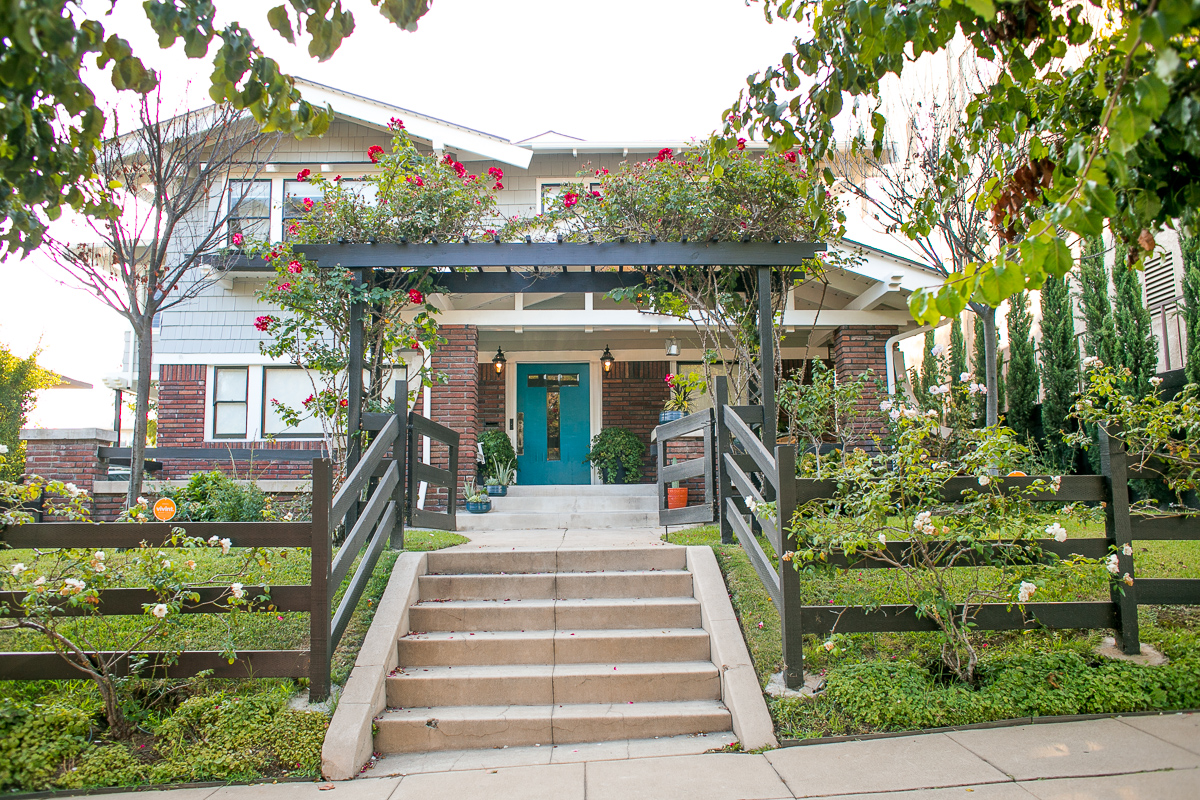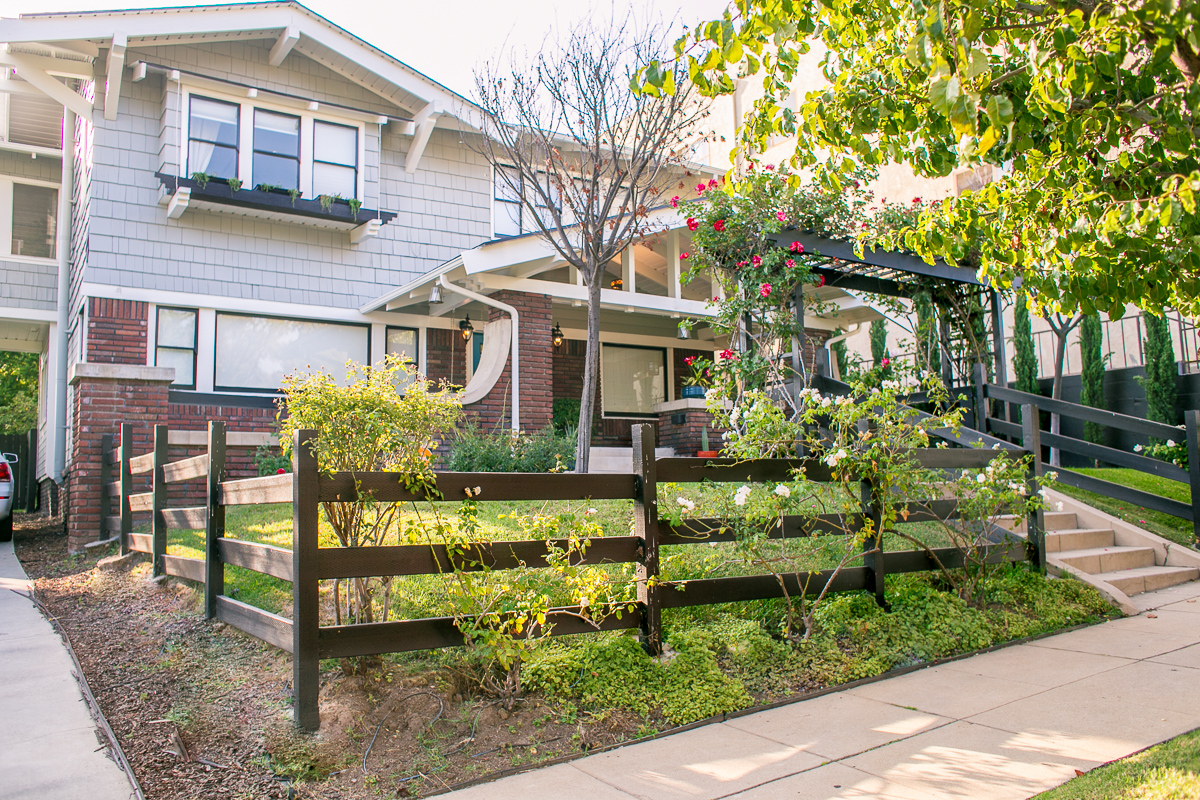 Exterior Before: It took a crew of 3-5 guys a full month to sand and paint the house
The Living Room:
When you first enter the front door, you have the living room to the left, straight ahead it opens up into the dining room, and to your right are the stairs and the study. We painted the walls a soft but warm shade of grey (Sherwin Williams: Repose Gray) and the trim a warm white (Dunn Edwards: Swiss Coffee). We also replaced the light fixtures (as long as nearly every light fixture in the house) to be a bit more modern. We've kept the furniture pretty simple but use a lot of books, candles, and throws to create comfort and relaxation. We also decided to not have any electronics in this room.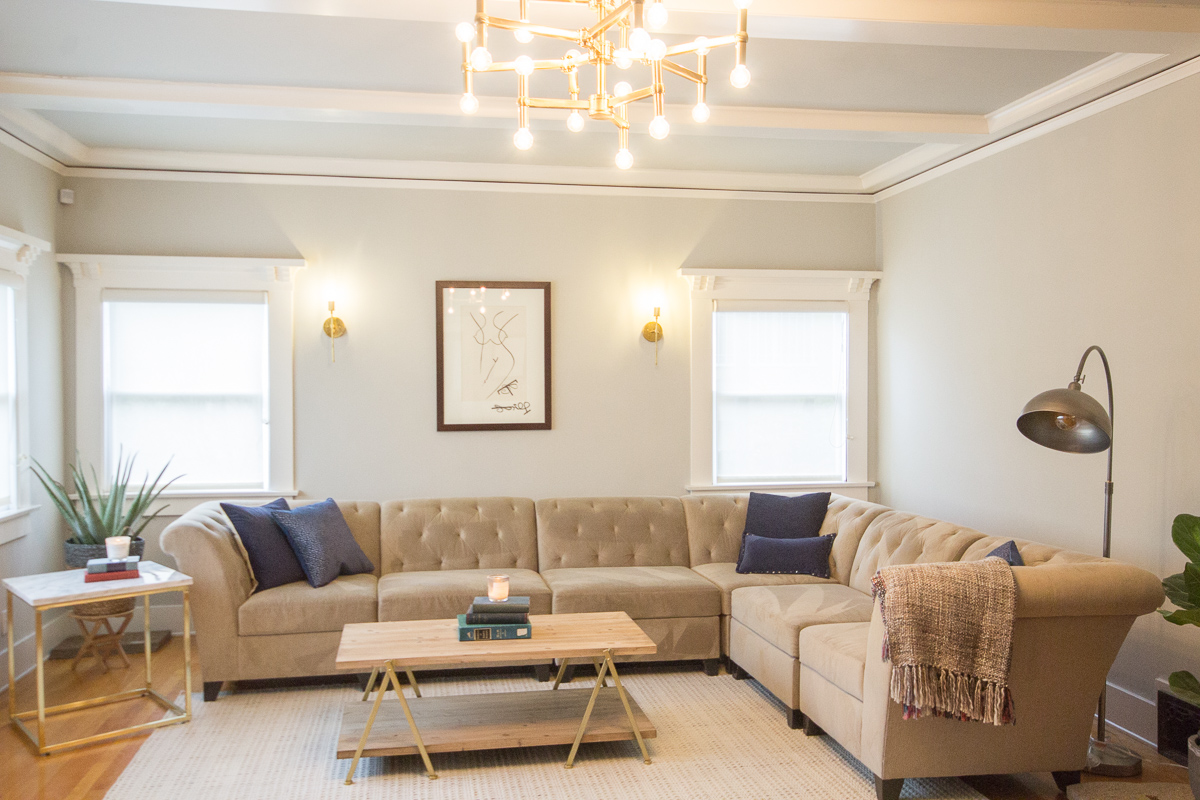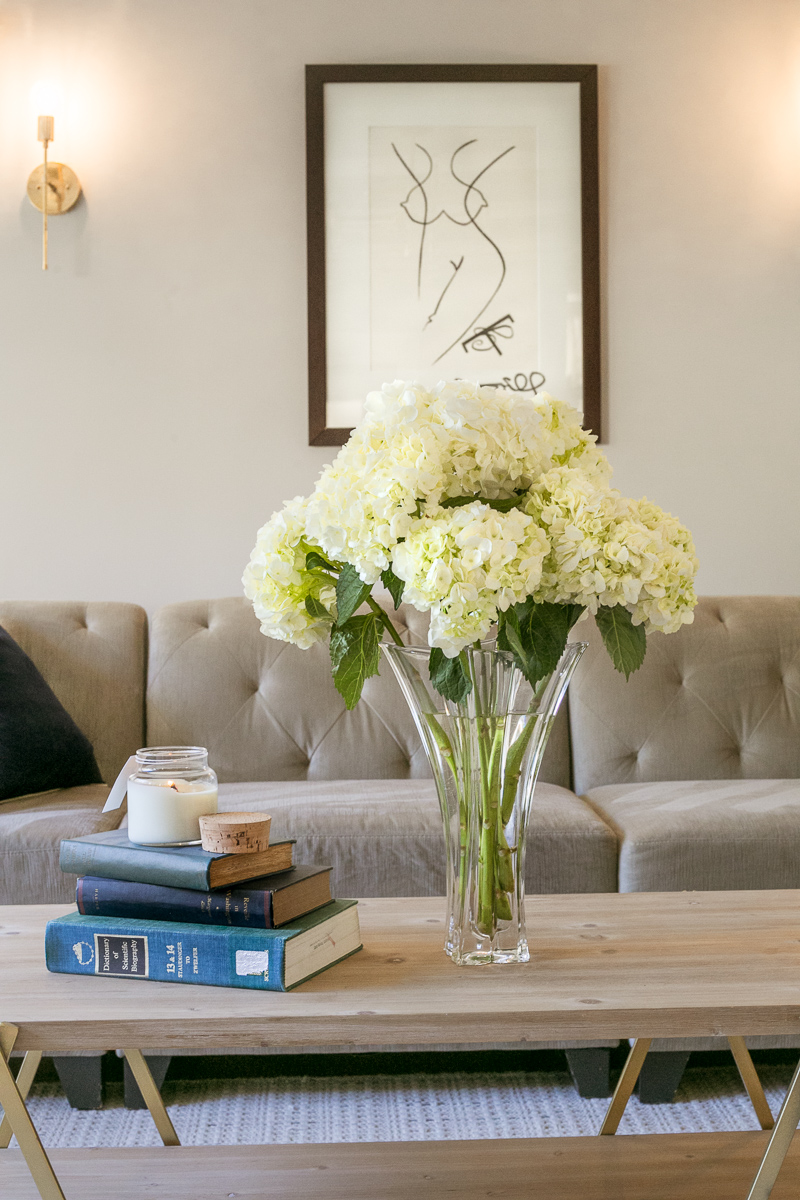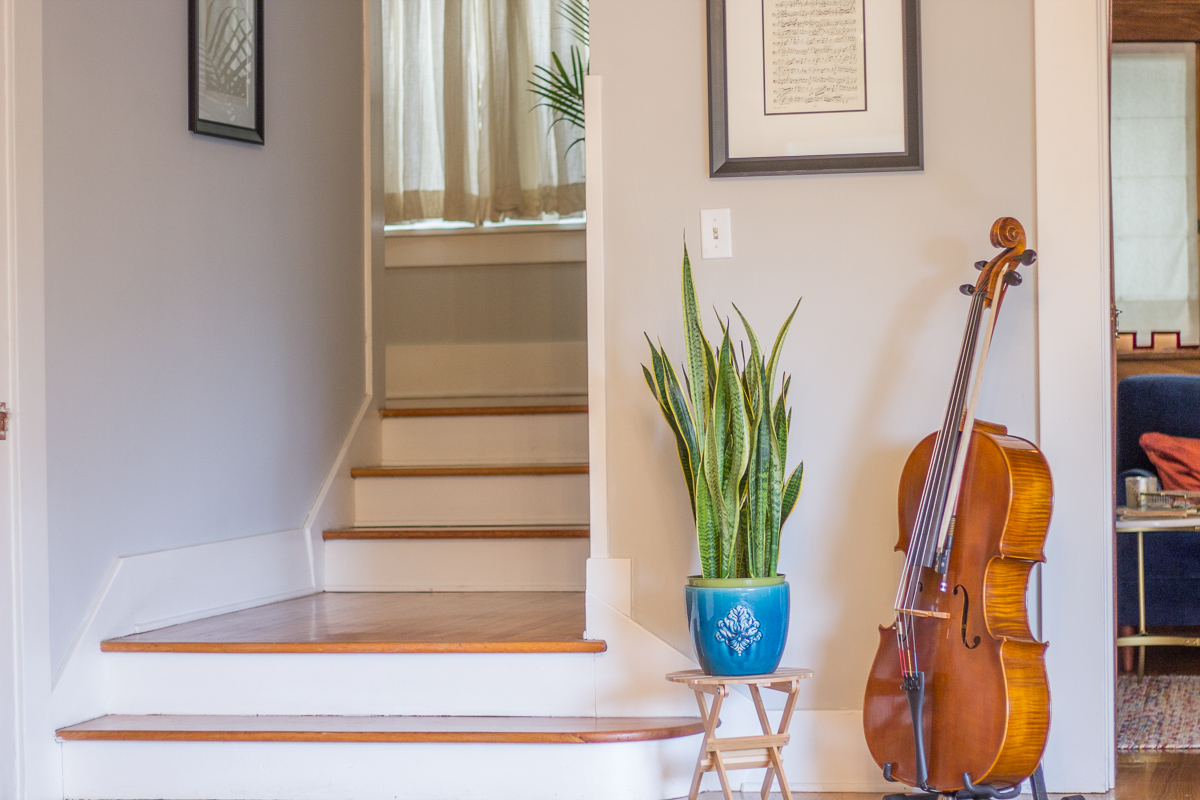 Living Room Before: In the 100 years before we owned the house, it had many different looks! (Before listing the house, the seller removed all of the floral wallpaper and painted the entire interior light blue).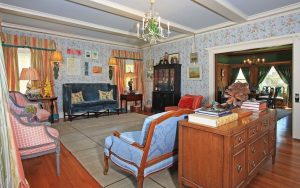 The Dining Room:
I HATED the dining room when we bought the house (see before pictures). It kind of felt like your grandmothers wood-paneled living room. The walls were bright orange, and I had every intention to paint the natural wood walls and trim white.  But after painting the orange walls white (Sherwin Williams: Alabaster), adding white curtains and some plants, giving the woodwork a coat of finish, and swapping in a glossy white table (courtesy of John), I had a total change of heart. This room is probably the most impressive part of the whole house, it's completely original to 1913 and you can truly see the beauty of the Craftsman style.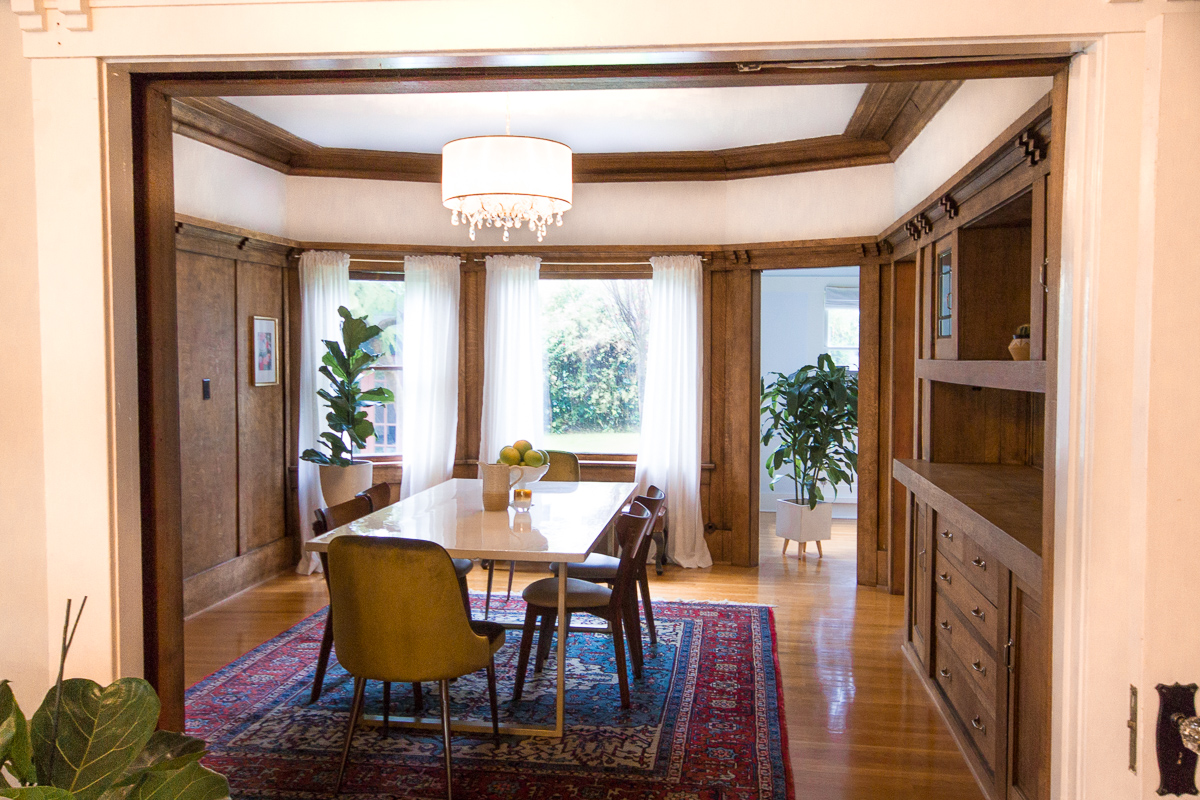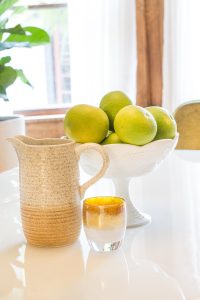 Dining room before: The picture with orange walls was how the dining room looked when we took ownership. The other two are various looks I've been able to pull from past listings.
The Study:
The study was the only room for which I had a very clear vision from the moment we toured the house. I instantly envisioned the shelves filled with our vintage book collection, the walls dark and moody (Sherwin Williams: Navy Blue), and this sapphire-blue velvet couch with burnt orange throw pillows.  We topped things off with a few vintage playboys, vintage matchbooks and a drink cart to further add to that "after dinner drinks and cigars" vibe.  Again, we decided to clean up and leave the original wood finishes in this room.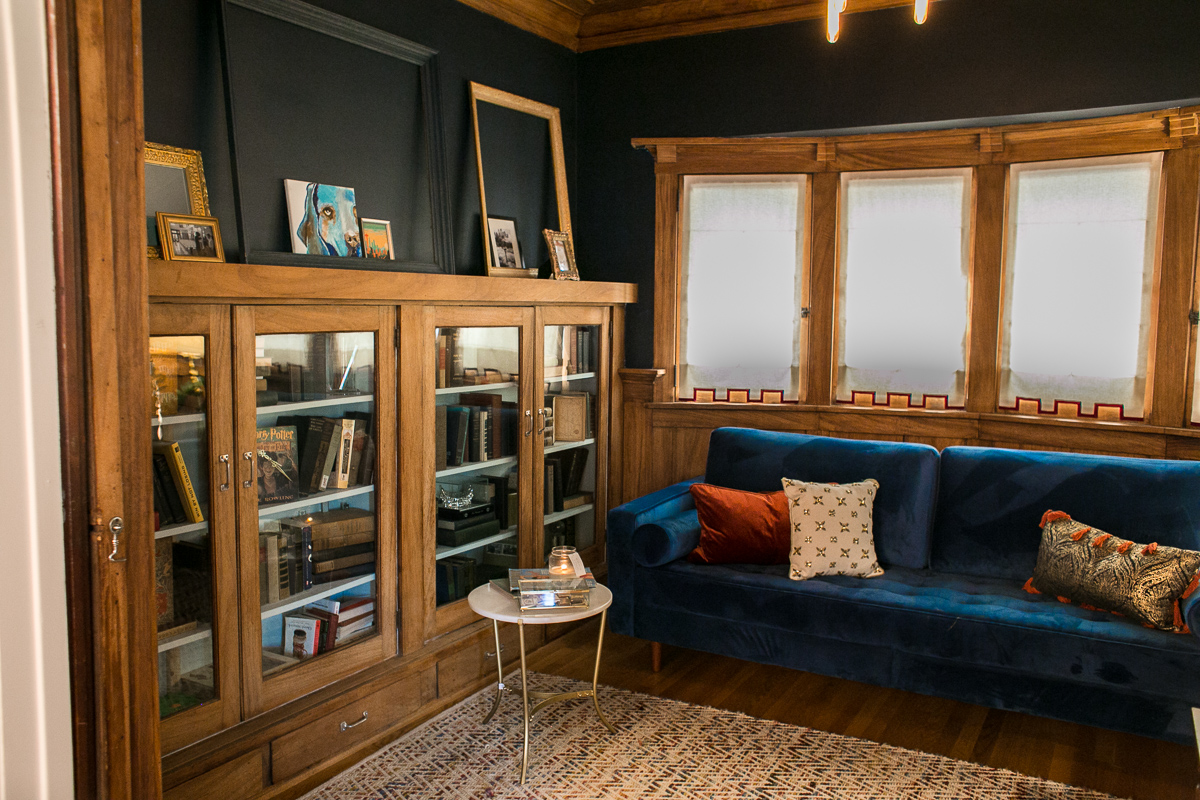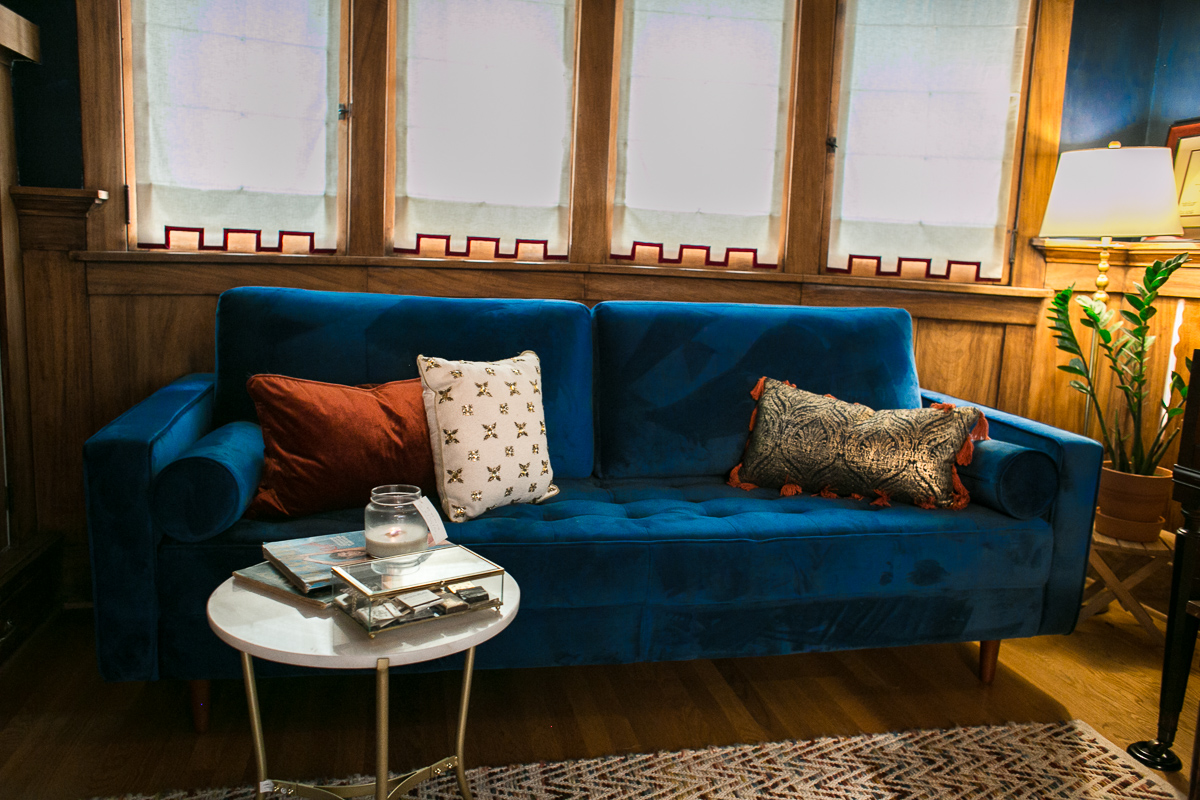 The Kitchen:
Other than the exterior and yard, we have probably put the most sweat and tears into the kitchen (see my Instagram highlight for more, lol).  When we moved in, the walls were bare and cracked, there was no stove, and, unlike the rest of the house, the ceilings had no crown moulding.  So we brought in a 1950's enamel stove and John built a range hood to go with it. We also did a decorative ceiling with paneling and beams to liven the place up, and added crown moulding to match. The cabinetry, hardware and floors are original to 1913, dings, dents, and all.  We left that stuff alone.  You can also see a tiny staircase, which was used by servants to move from the kitchen to the upstairs without having to disturb guests in the living and dining room!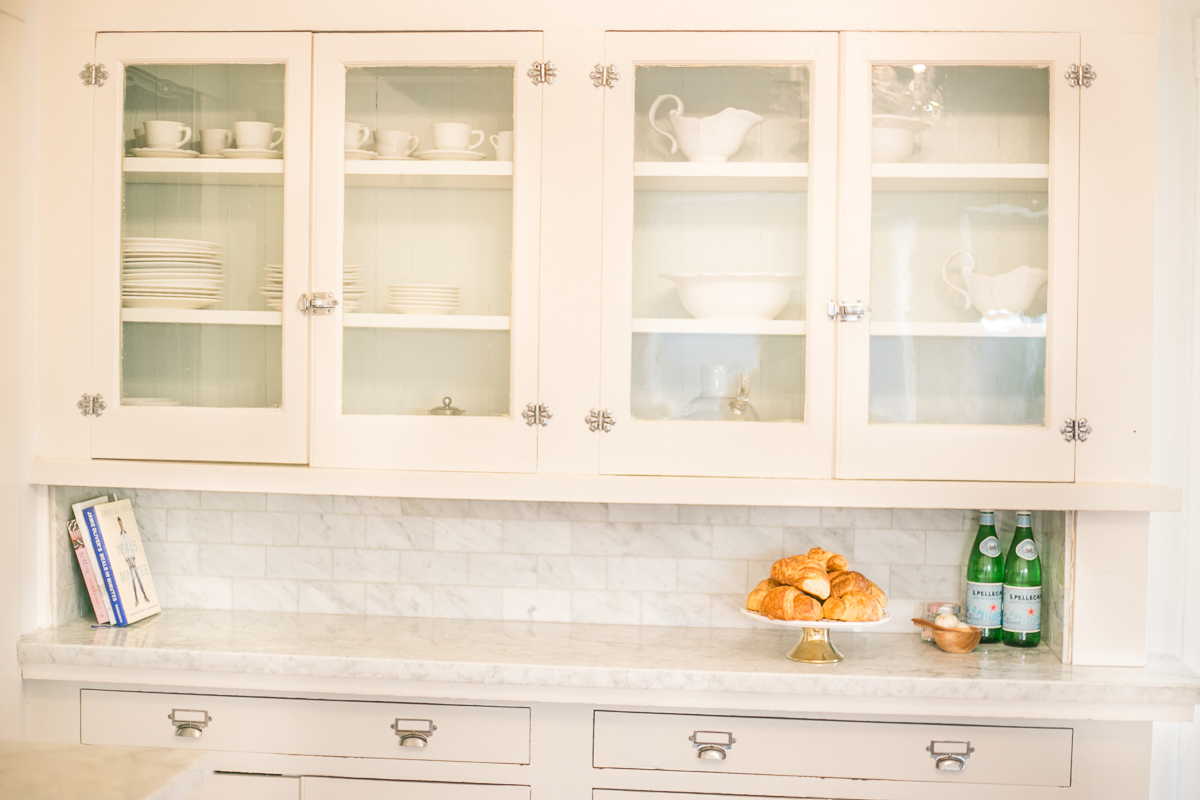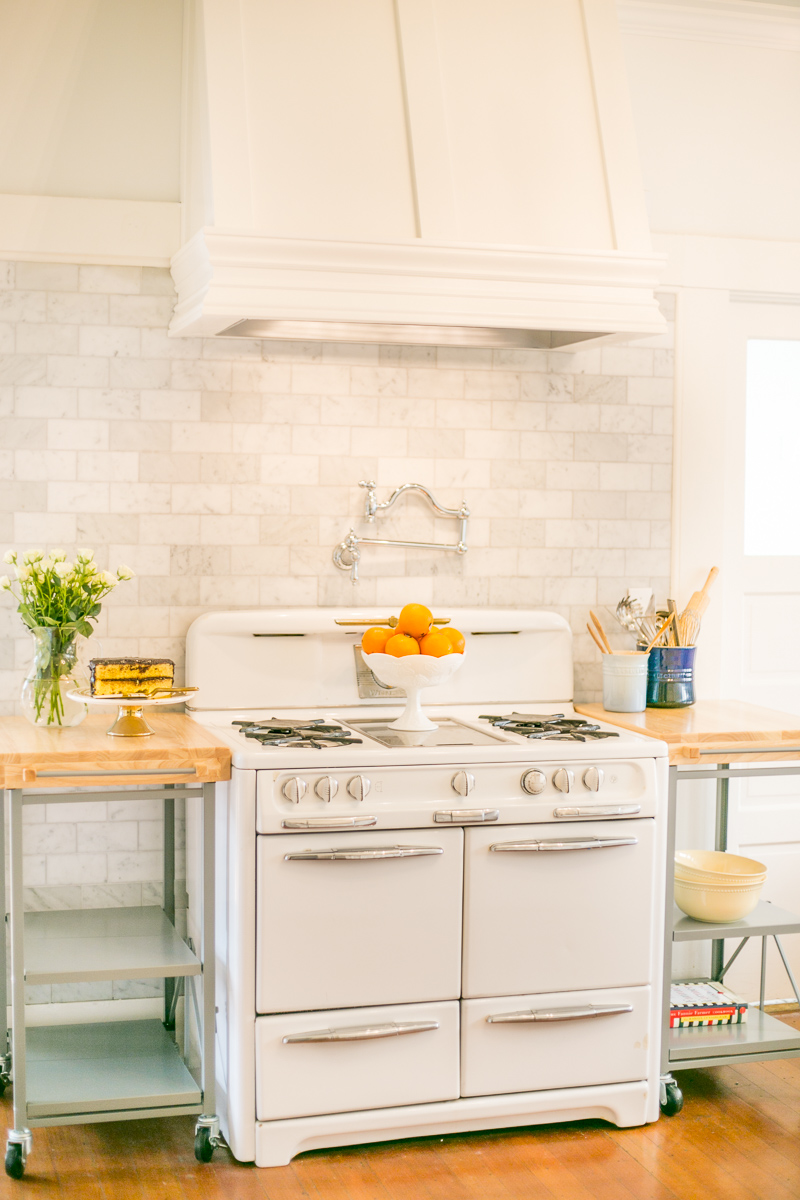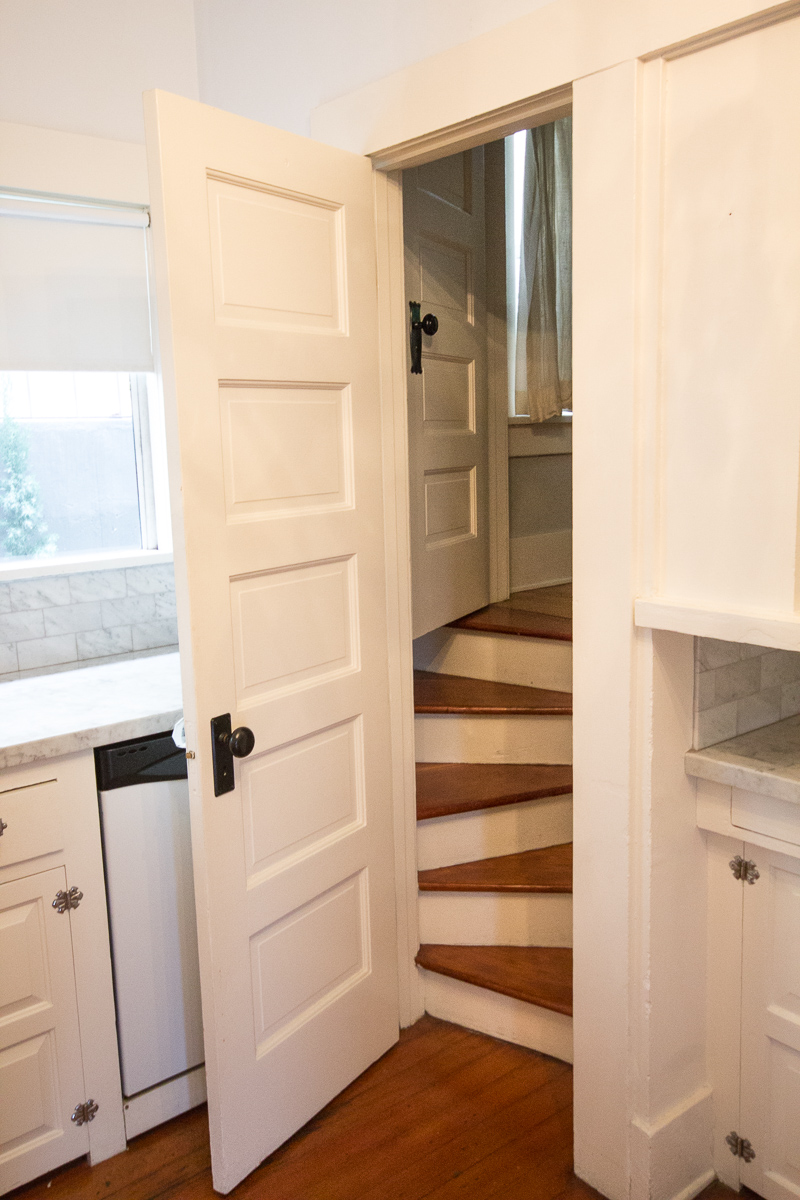 The TV Room:
The first room you encounter upstairs is actually a super large bedroom, which is why we converted it to a second living room. This is our most modern room. I decorated it to match the cats… (just kidding… kind of).  The walls are a little darker and warmer than the rest of the house (Sherwin Williams: Mindful Gray).  I used white everything to make it peaceful and added fur pillows, candles and blankets to make it cozy (and make the cats feel at home).  This is the room we really kick back in. It's also home to the only TV in the place.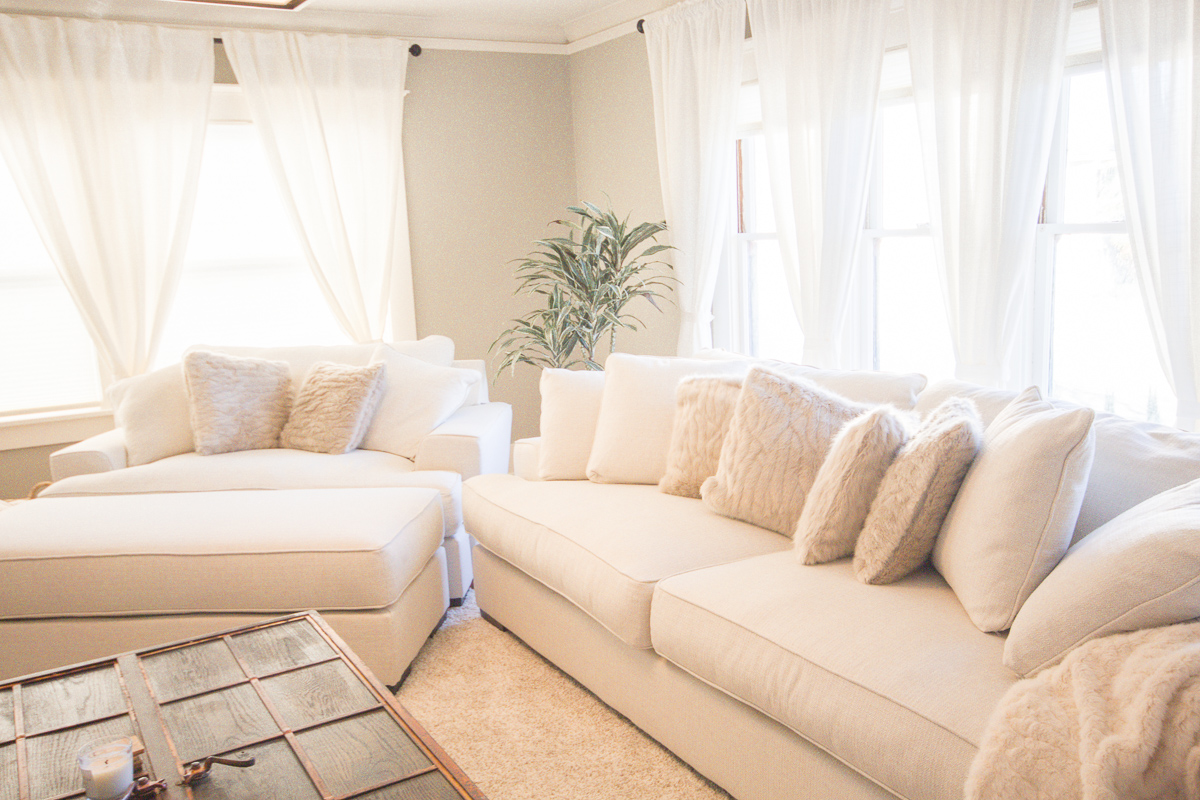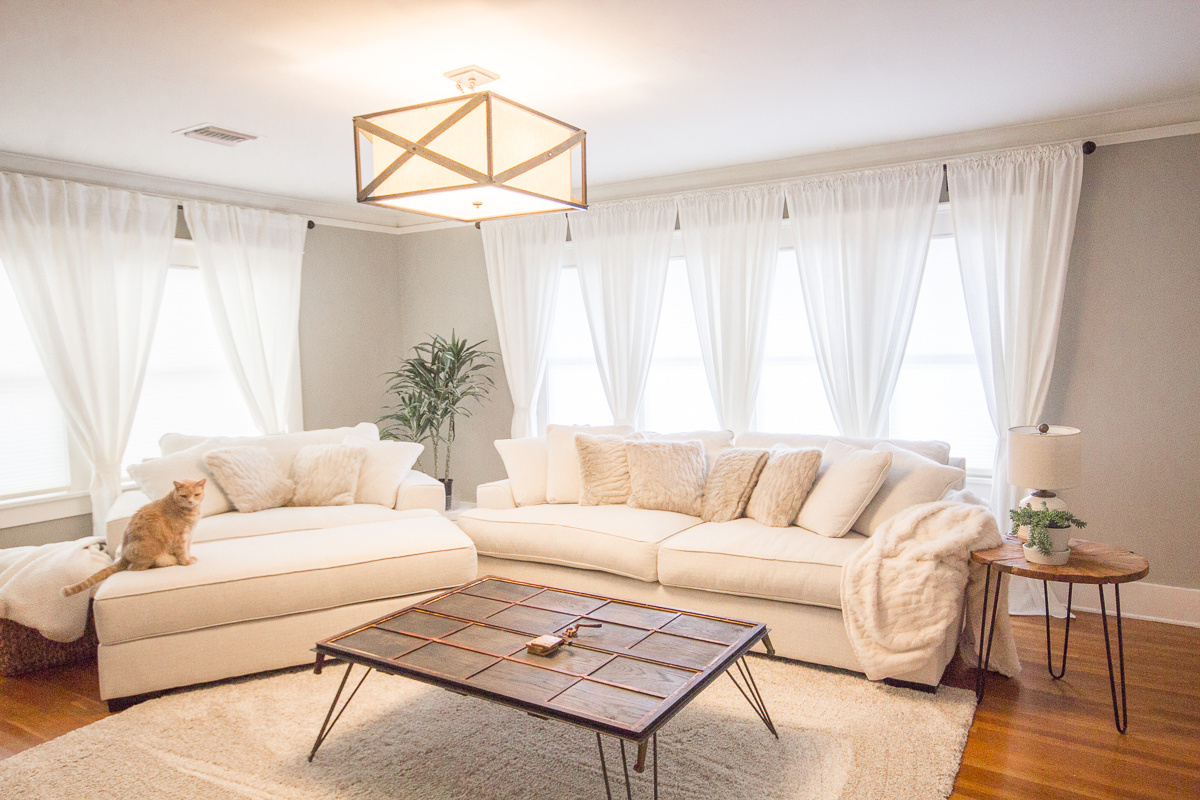 TV Room Before: This is what the room looked like in the early 2000's.  When we bought it the wallpaper had been removed. (I think it's super rad and probably would have kept it if it would have been there)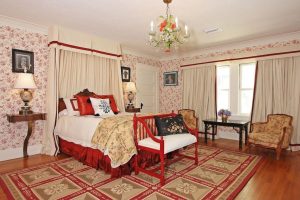 The Master Bathroom:
The master bathroom features original tile and bathtub. We painted the walls a soothing shade of green (Benjamin Moore: Aloe) and switched out the vanity, mirror, and brought back the original light fixture, which we refinished by hand.  We love the built-in cabinetry of Craftsman homes, and this one, like the others in the house, has the original hardware and is painted Dunn Edwards: Swiss Coffee: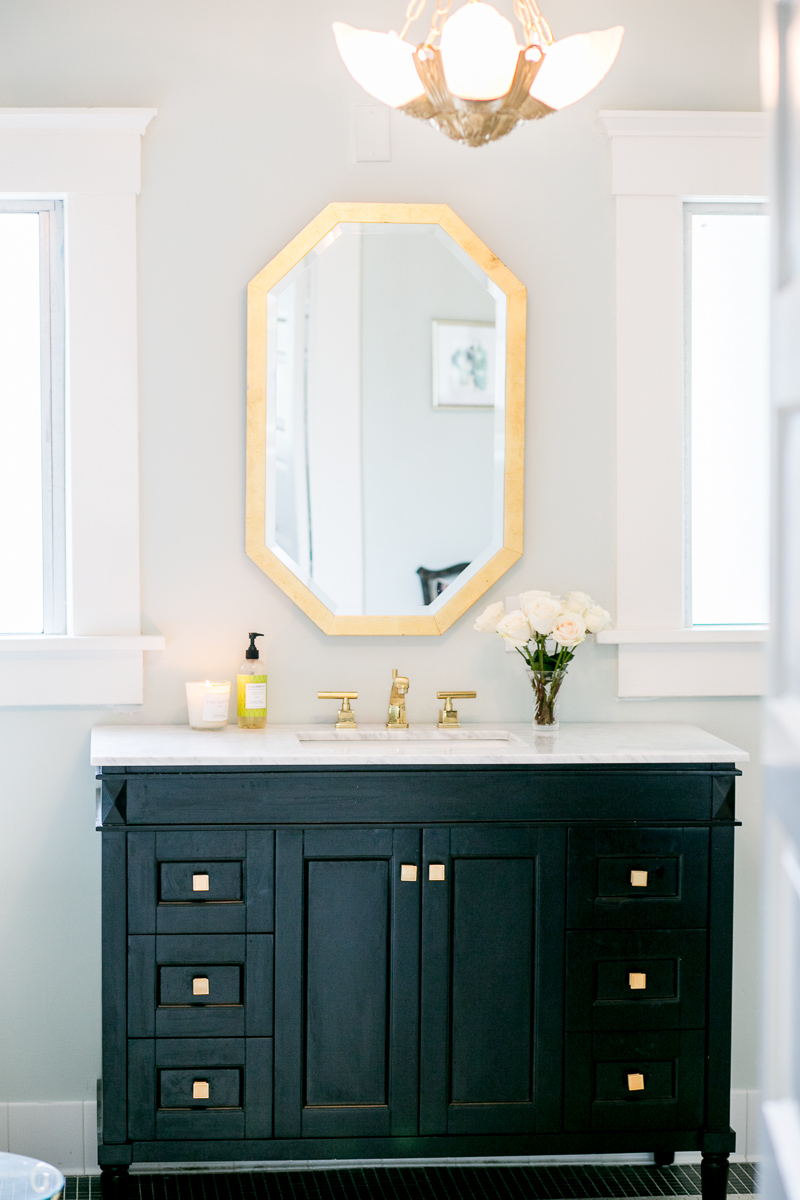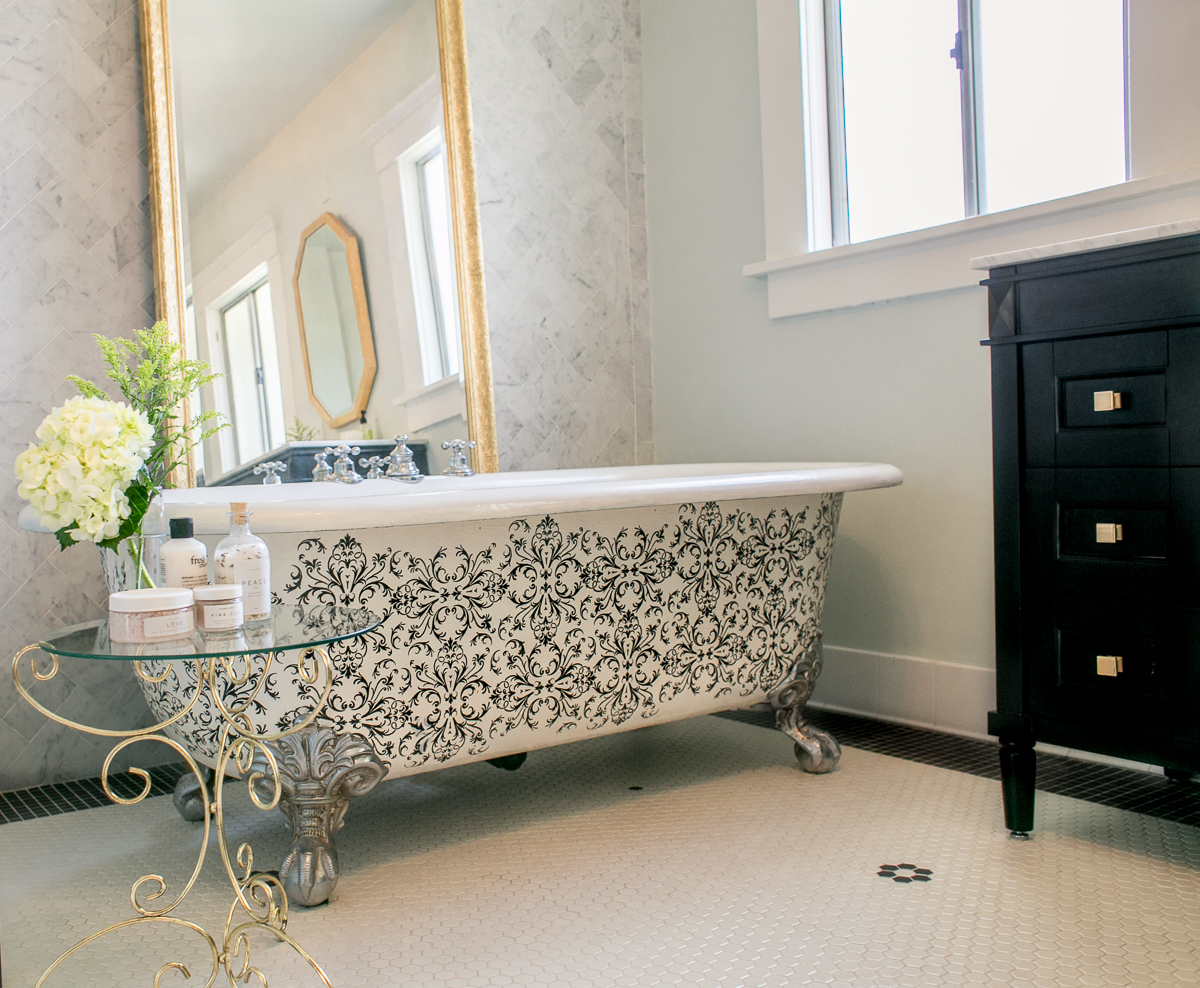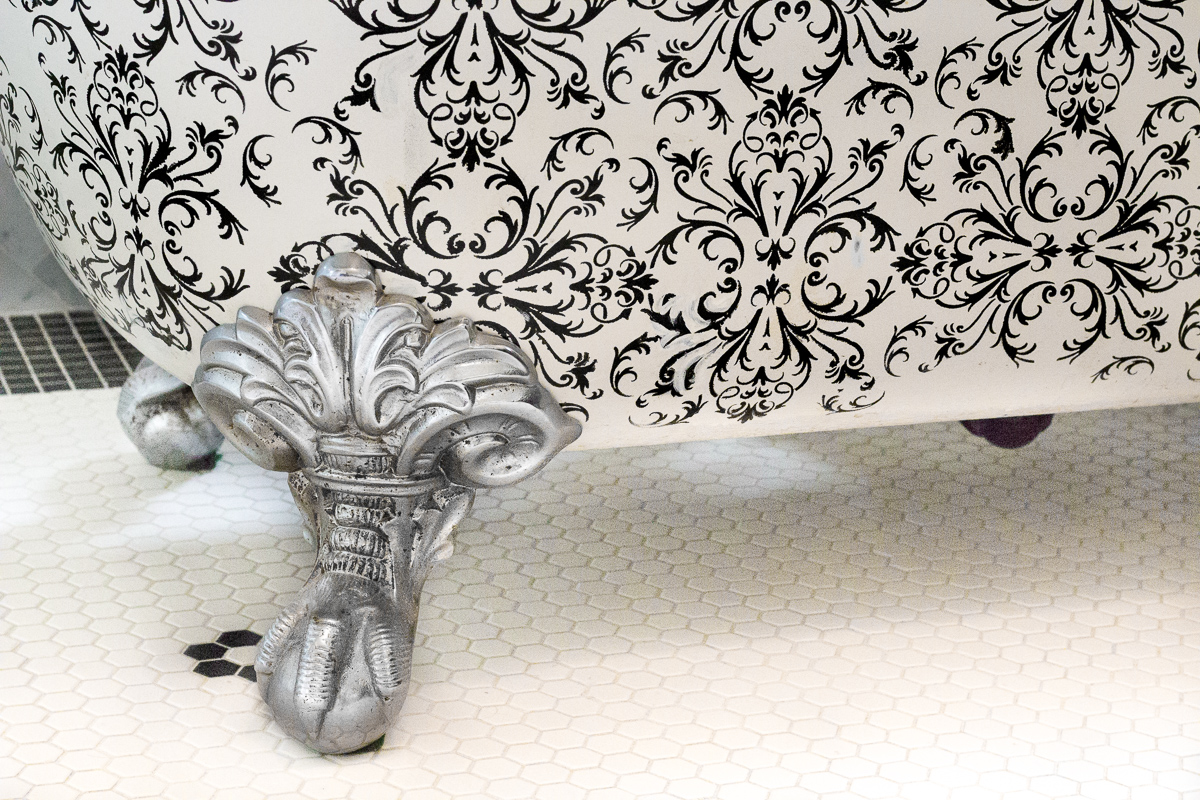 Master Bath Before: Lots of weird stuff going on here… Look at those light fixtures, the vanity and the spiders???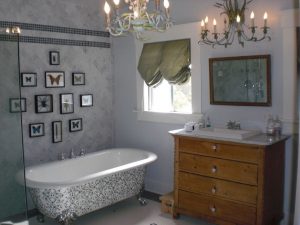 The Master Bedroom:
Although it's hard to tell from the pictures, one of my favorite things about the master bedroom is the paint colors.  We went with a warm white on the walls (Sherwin Williams: Alabaster), and a relaxing blue on the ceiling (Benjamin Moore: Blue Lace). The rug is a soft blue to match the ceiling.  The master also has a side room that I've concerted into a closet/office that features three walls of windows and a window seat like the one in the main room. The master also has a "dressing room" which is a pass-through between the bedroom and the bathroom (another little quirk from the early 1900's as you wouldn't dare enter your bedroom in the nude).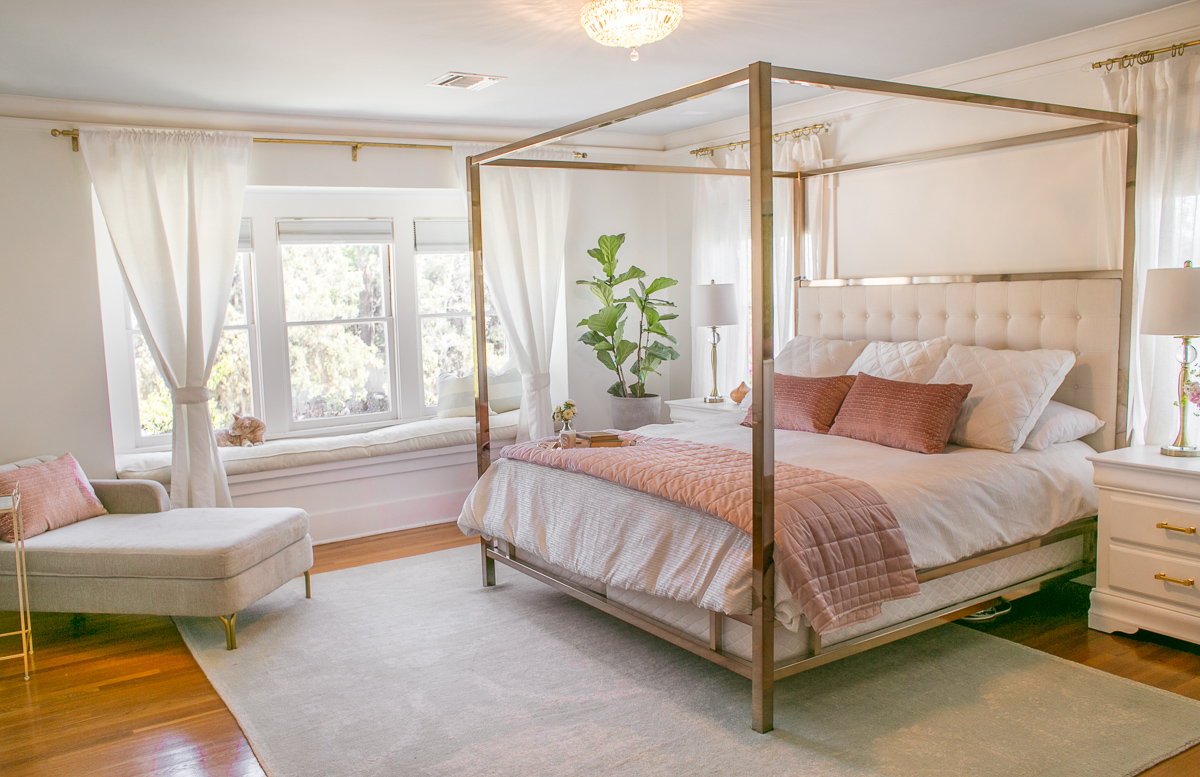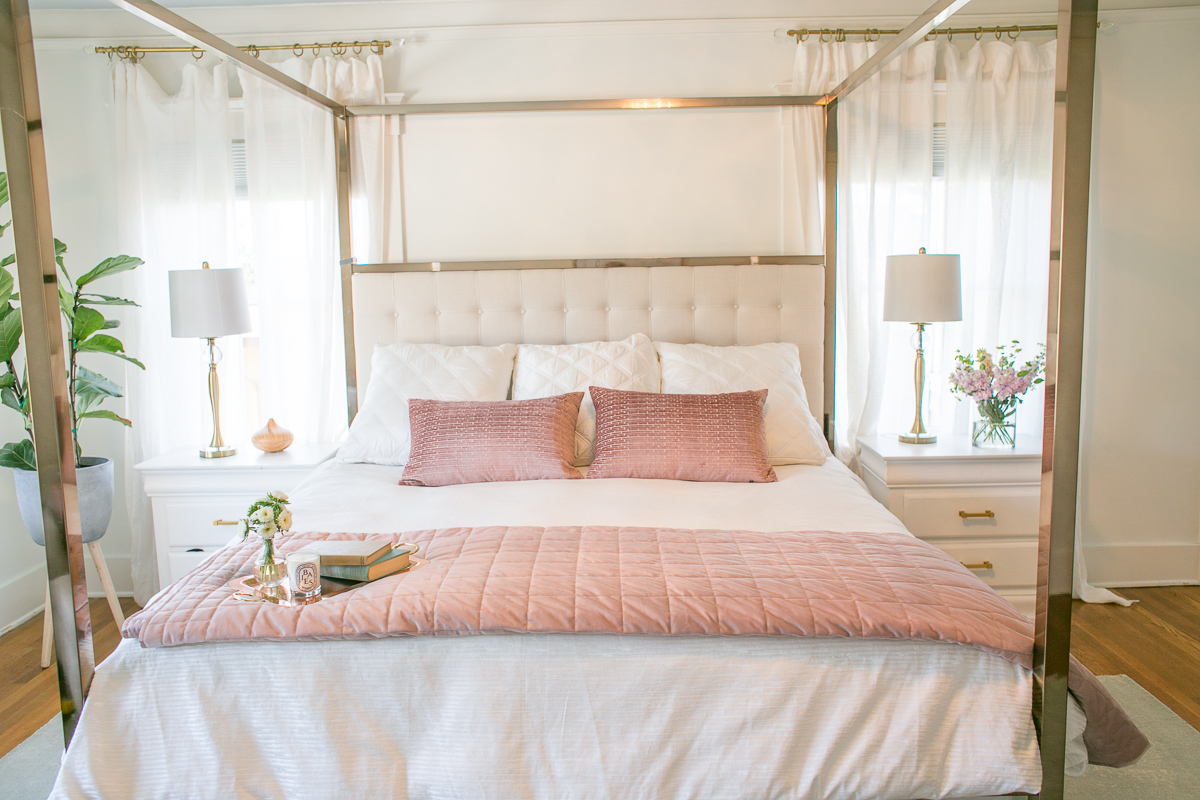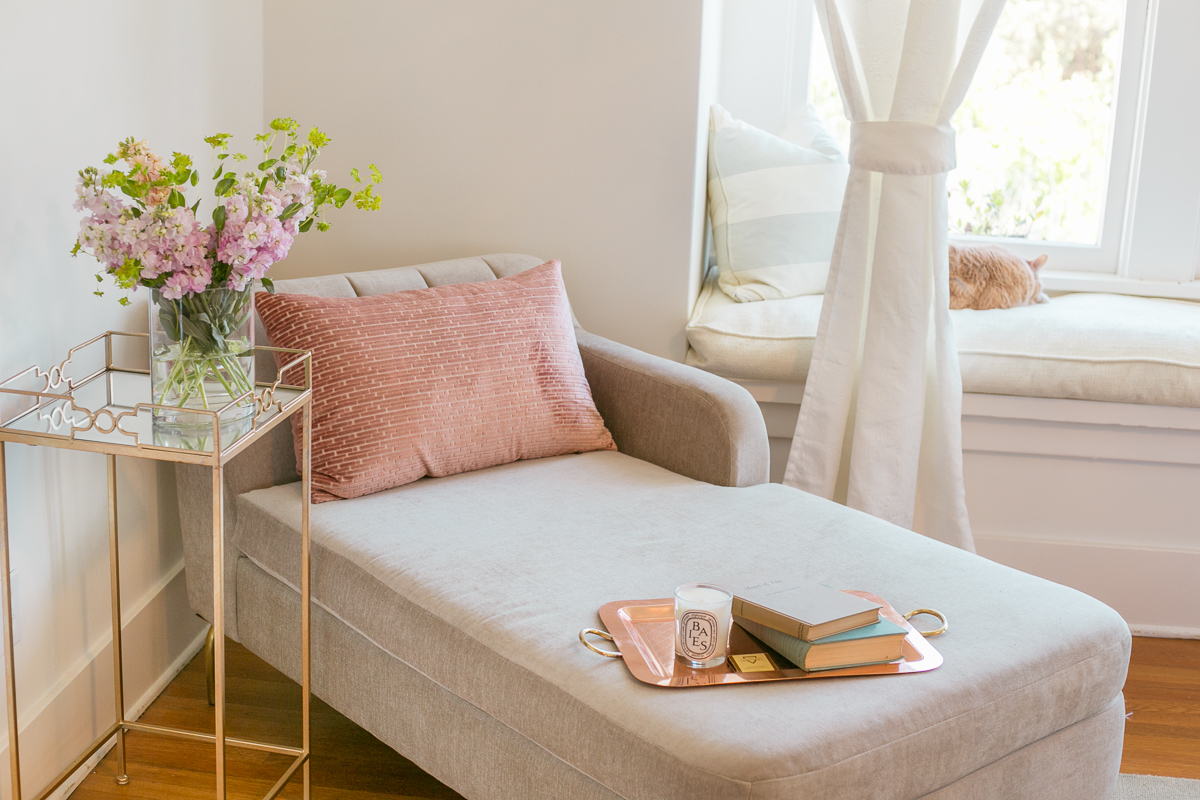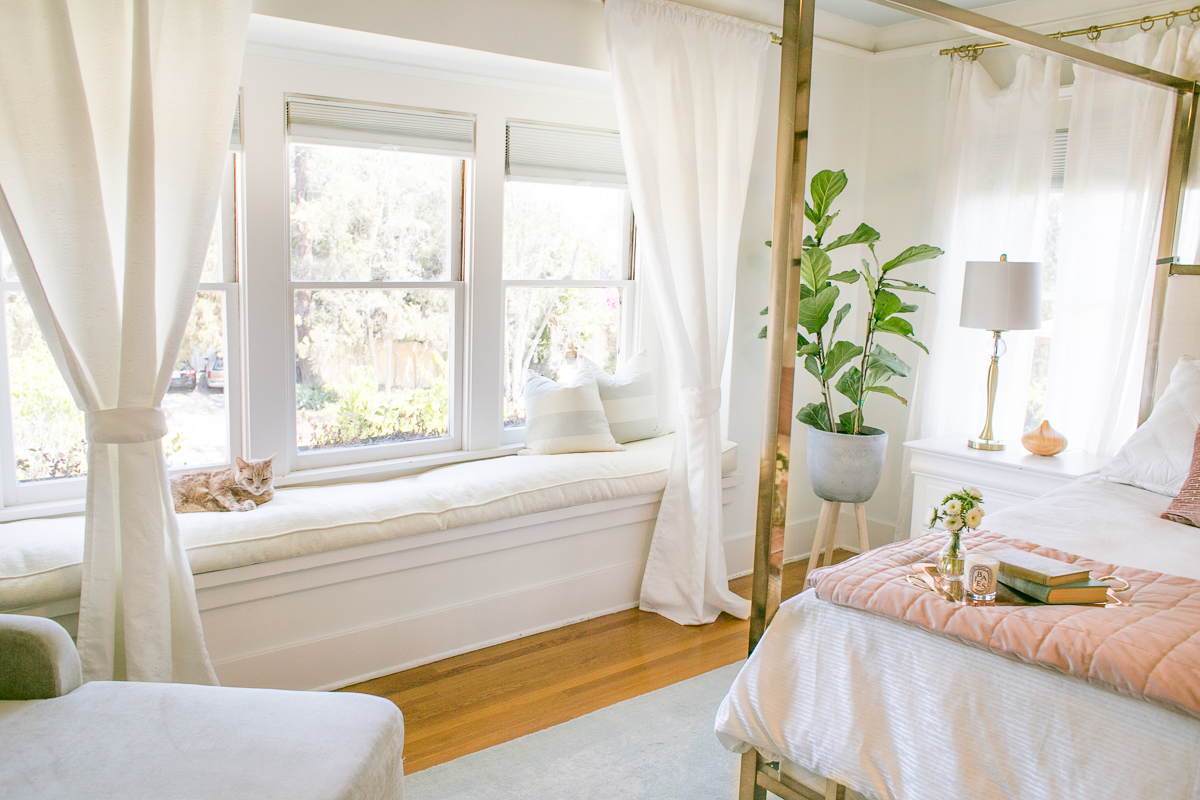 Master Bedroom Before:  Obviously none of the furniture or curtains were here when we moved in, but the popcorn ceilings and the light fixture had to go, obv.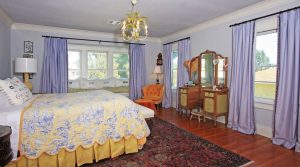 The Guest Rooms:
We feel incredibly fortunate to have TWO guest rooms. We have plenty of visitors to LA, and this has allowed us to do what we love and host our friends and family (hotel Mahler now taking reservations into 2019). We kept things simple with black and white and focused on making the beds and pillows as comfortable as possible.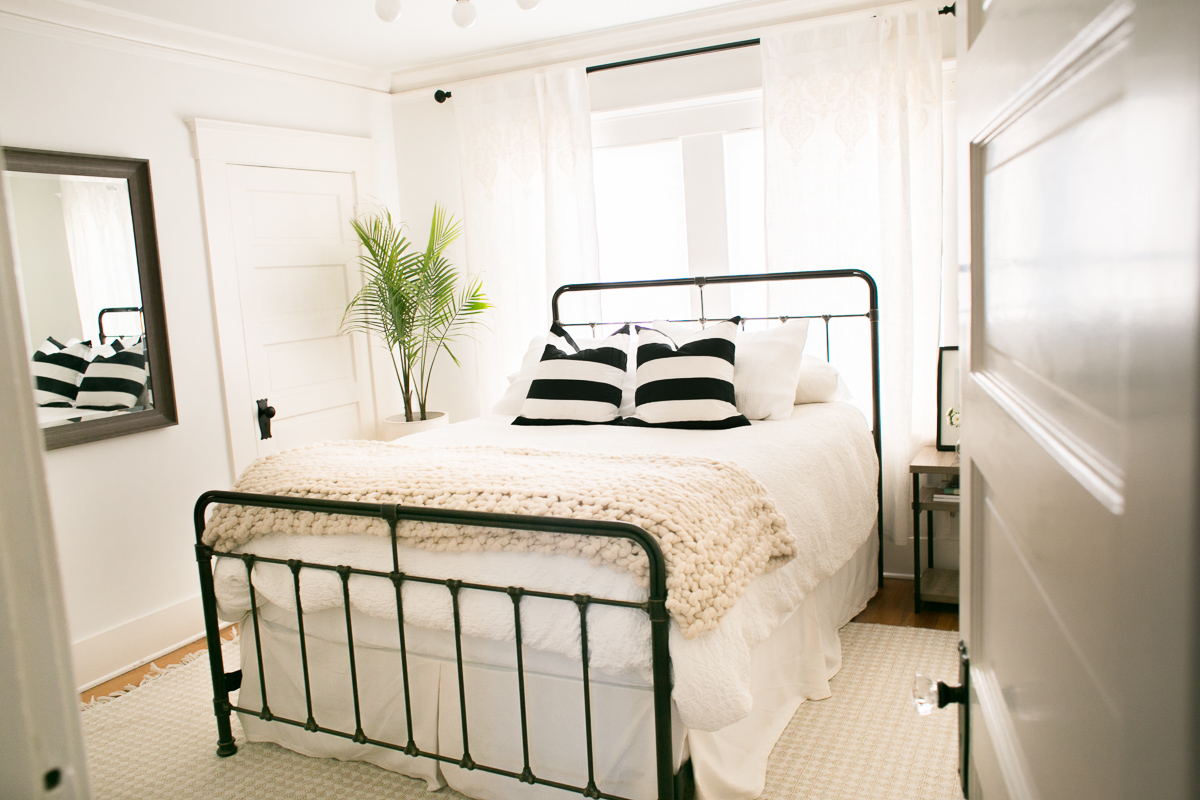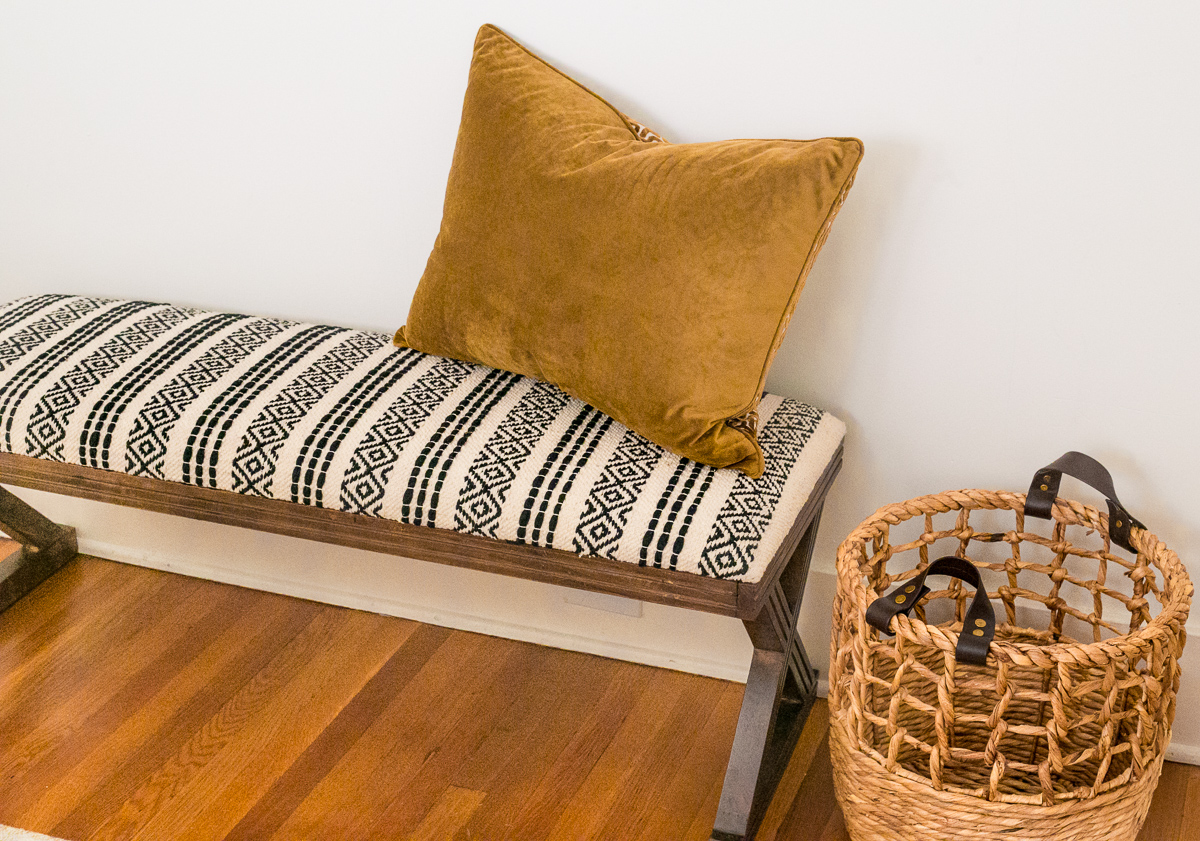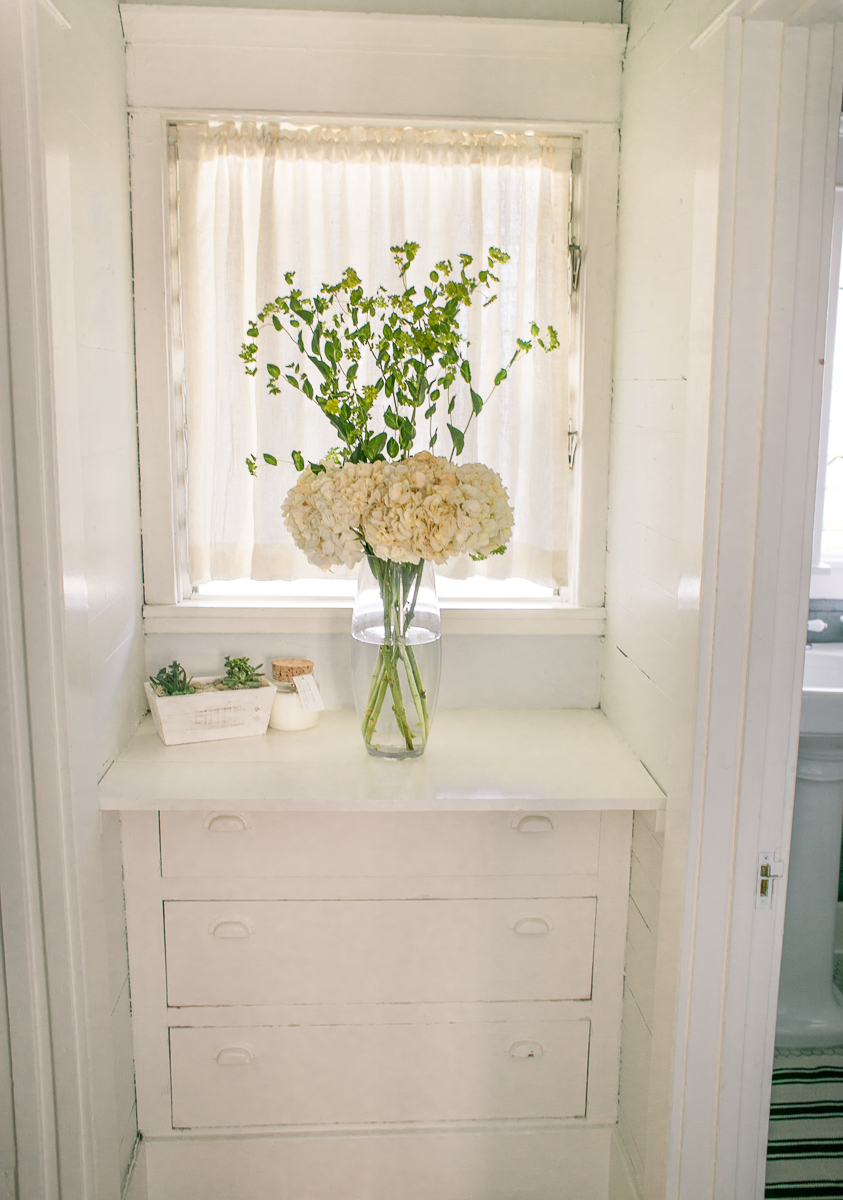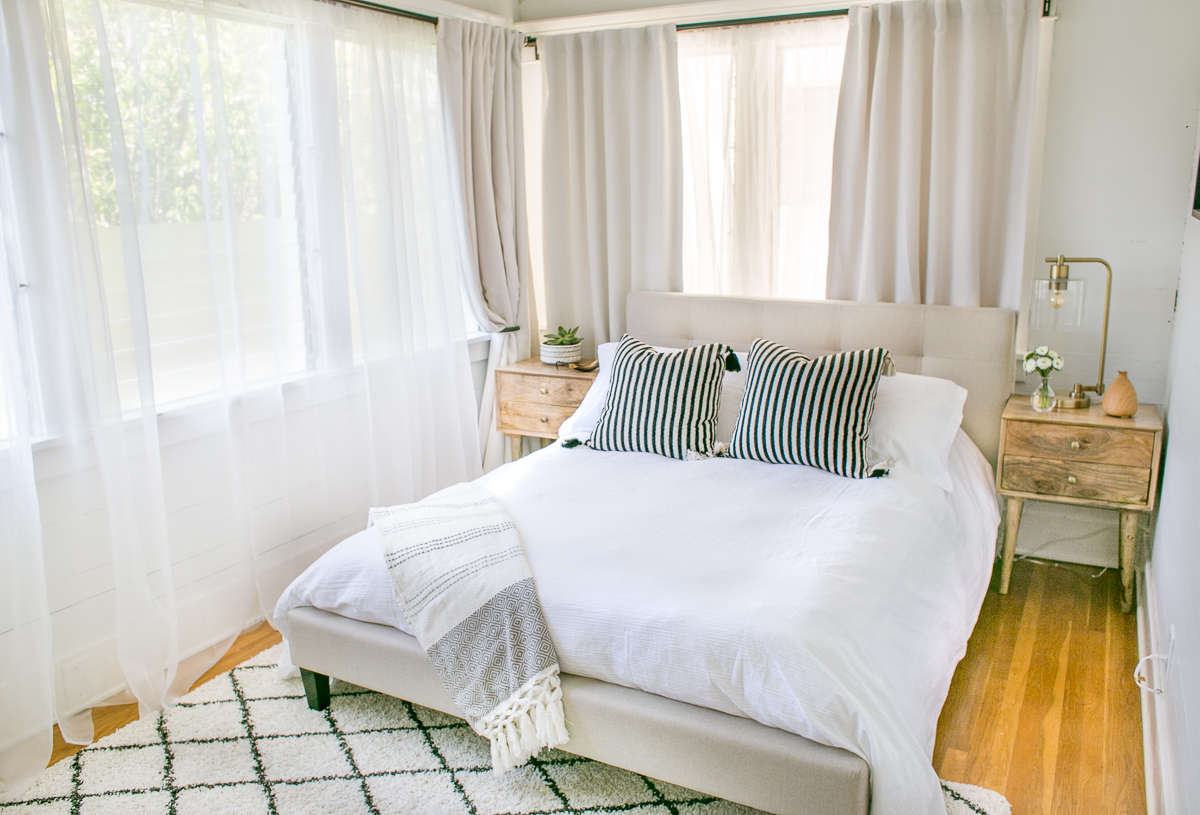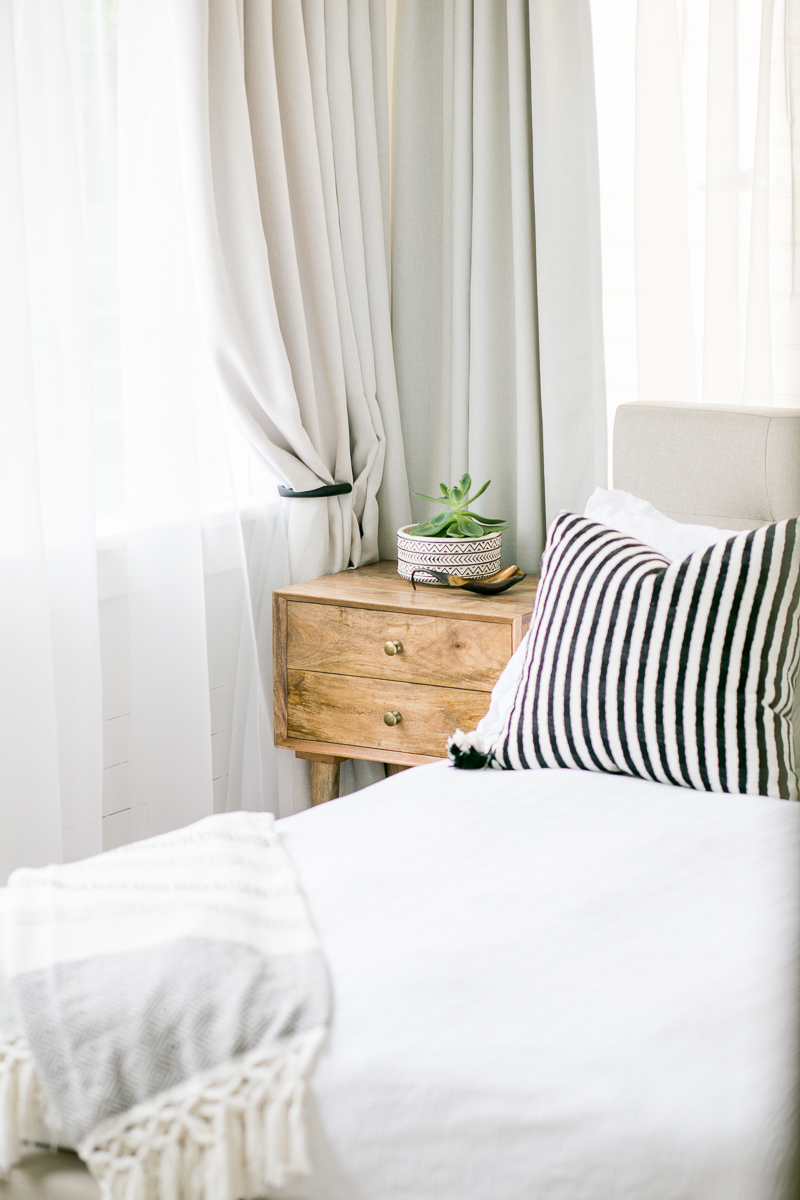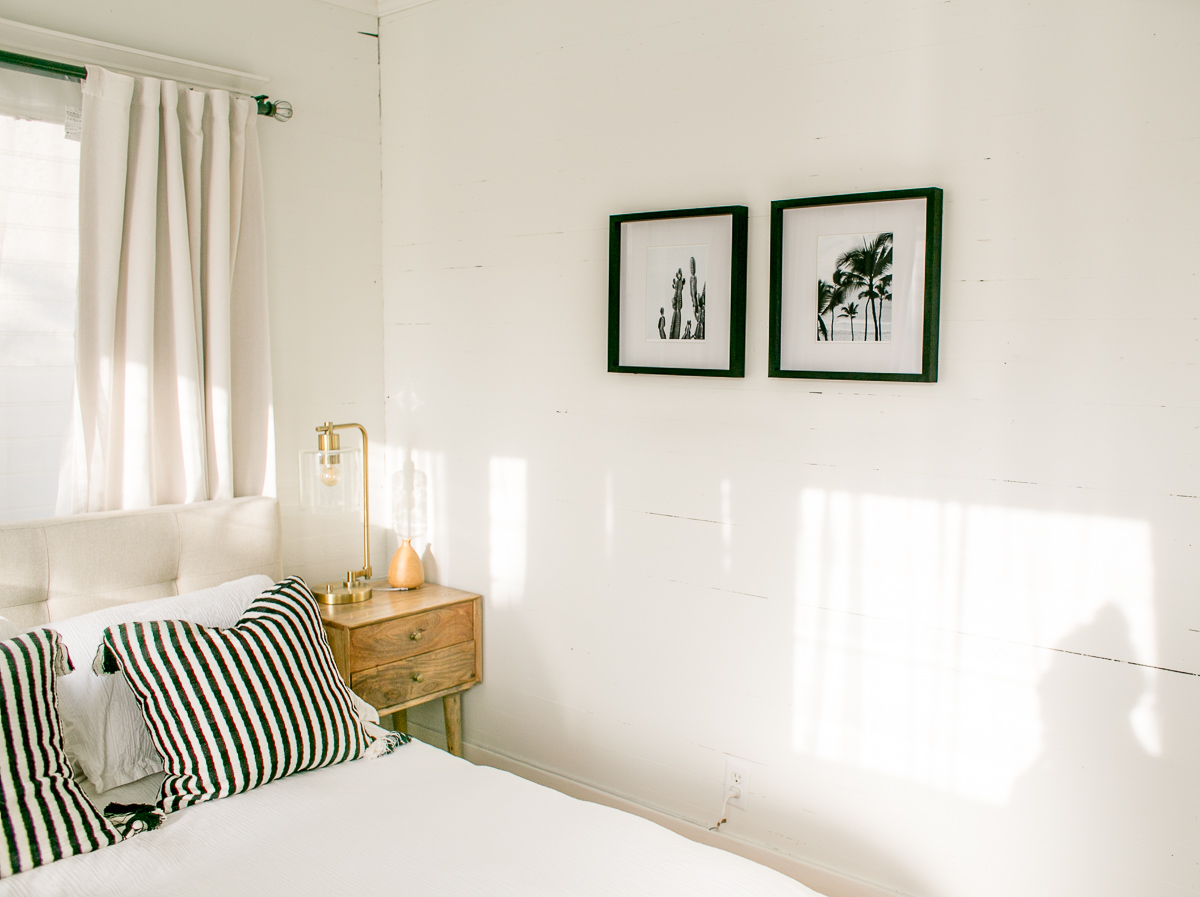 Guest Room Before: The walls of one guest room are all shiplap, and they were painted and glossed a dark grey/blue color. The walls had to be stripped, sanded and then repainted to achieve the above white color.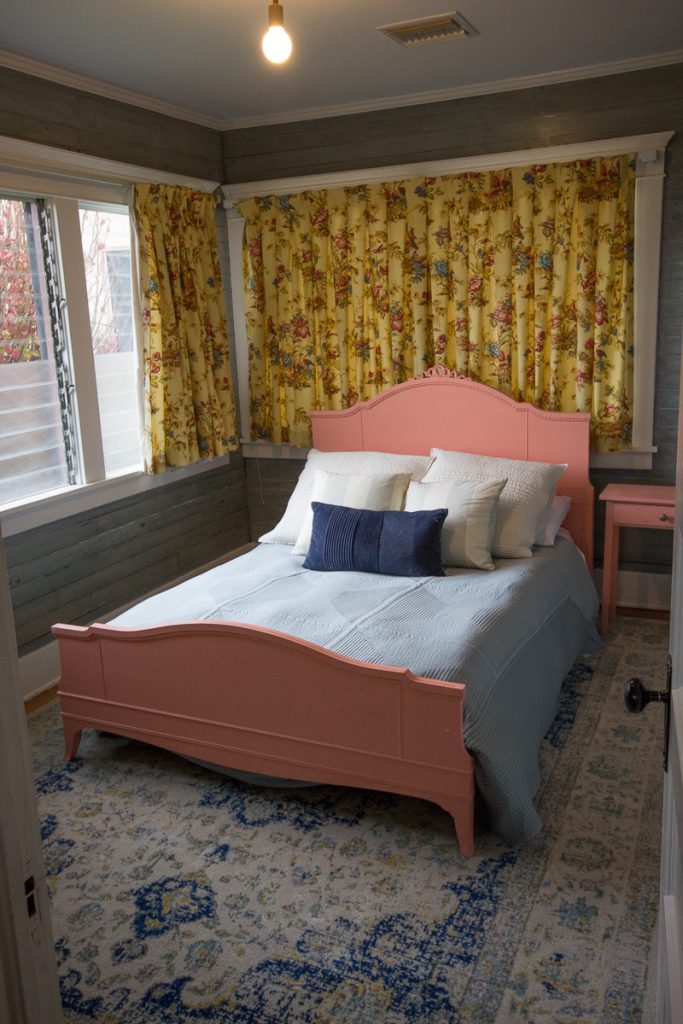 The Back Yard: 
I saved the backyard for last because I am so proud of it.  As you know, this is really the oasis that we wanted.  A quiet retreat completely away from cars, cities, and sirens.  We wanted to be able to host in our yard so John built this pergola and table himself!  We kept with the Secret Garden idea, and we are starting to cover the pergola with climbing jasmine, hanging succulents, and bougainvillea.  The yard features an abundance of mature fruit trees including Meyer lemons, limes, oroblancos, peaches, and apples.  When you step out into the yard, you can hear only the wind, the birds and the crickets.  Truly a blessing in Los Angeles.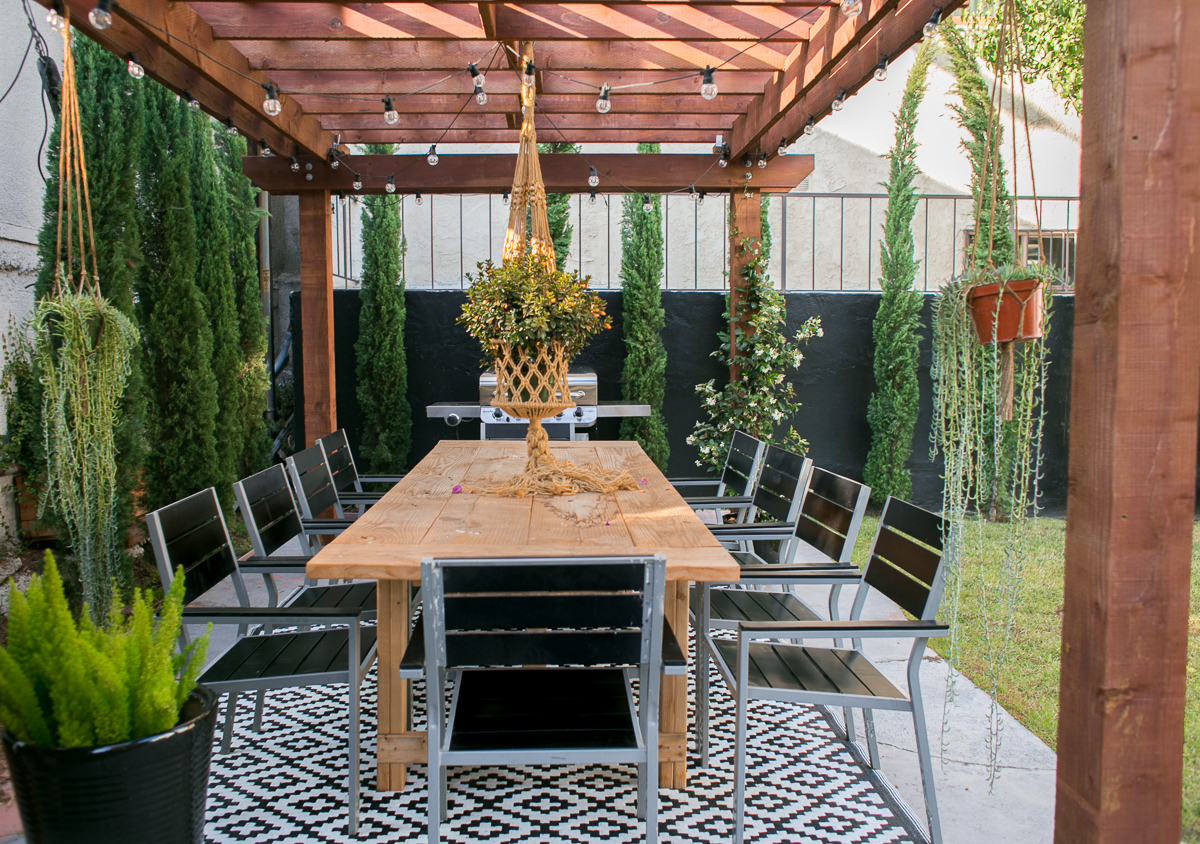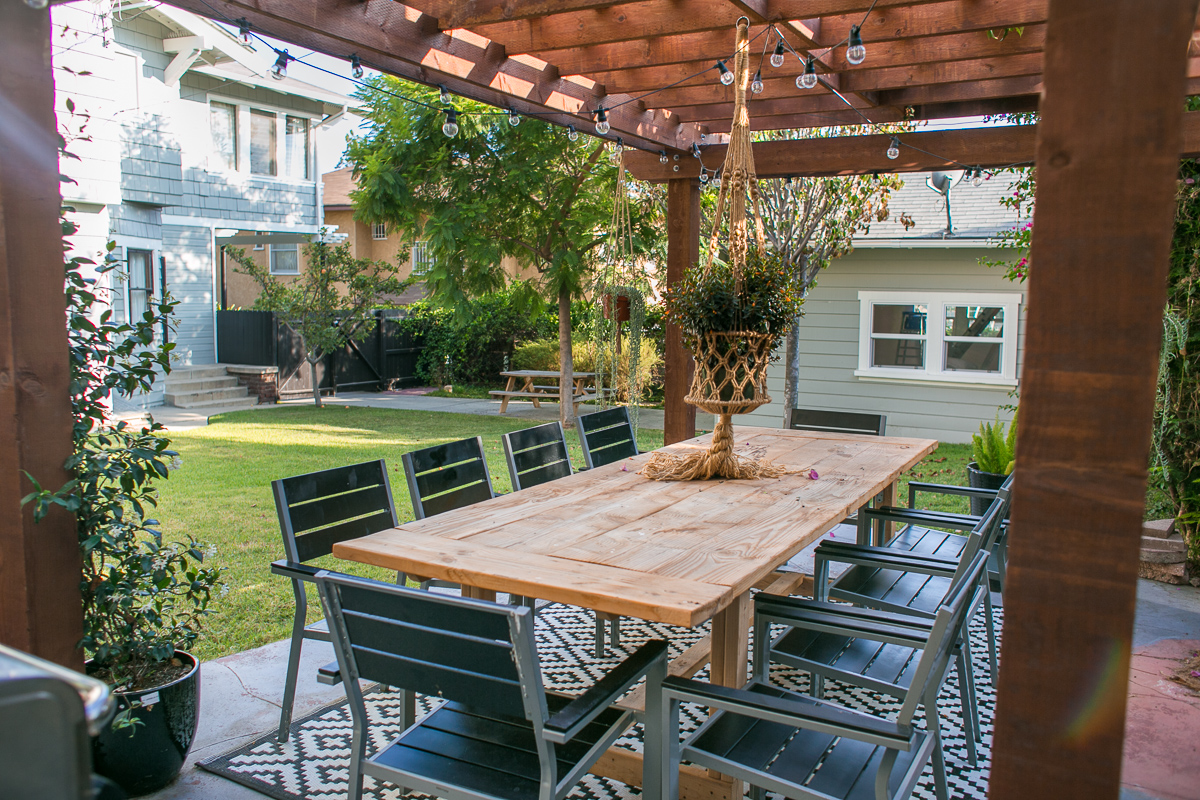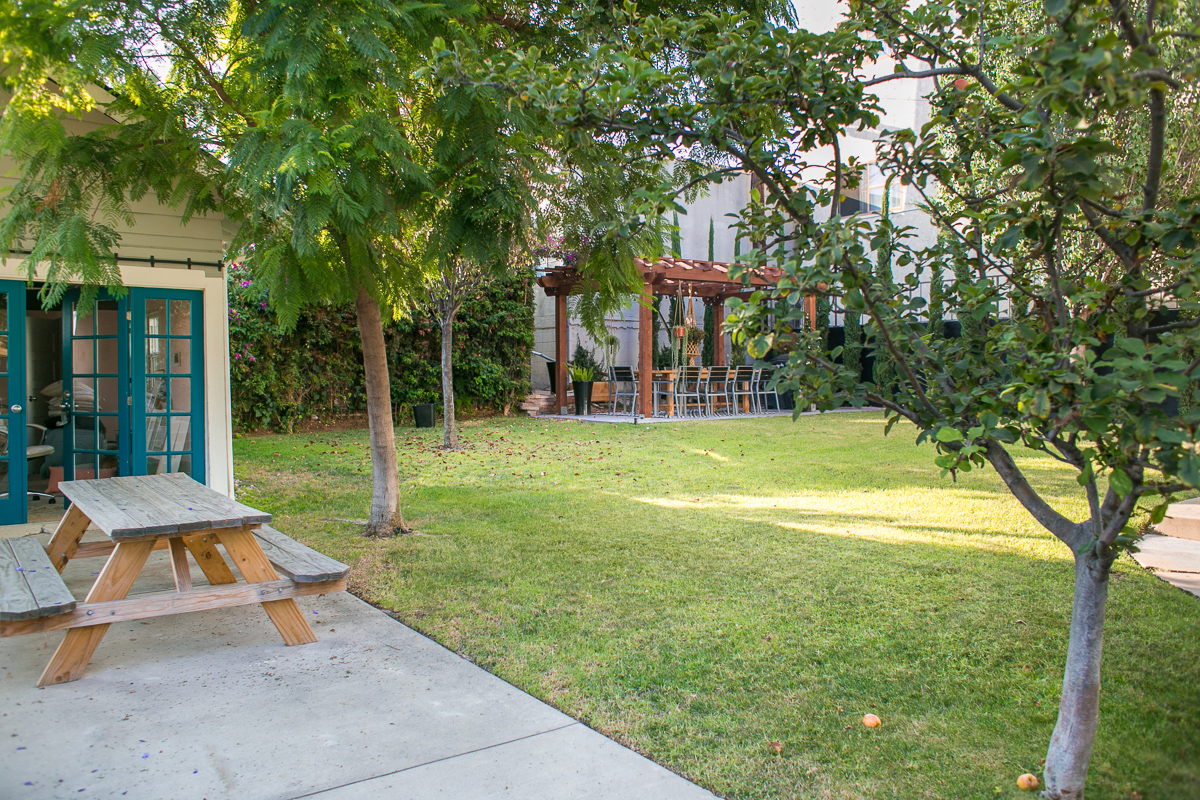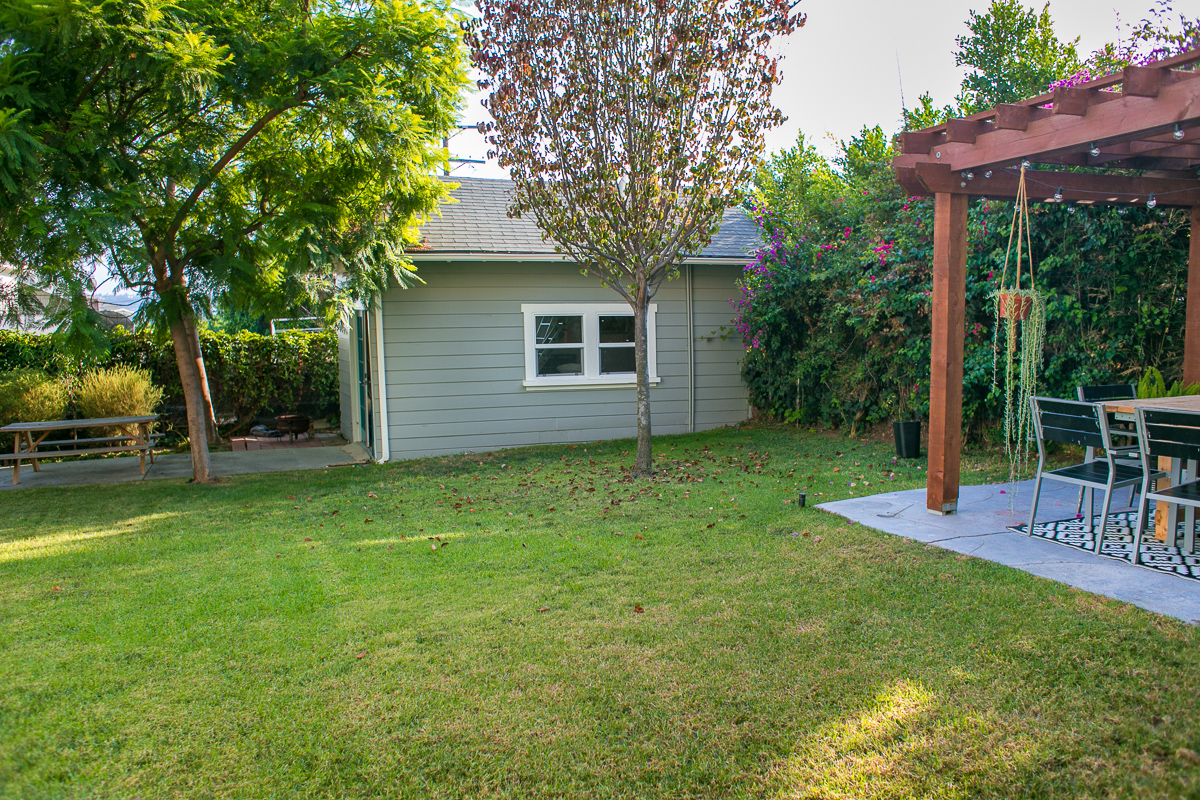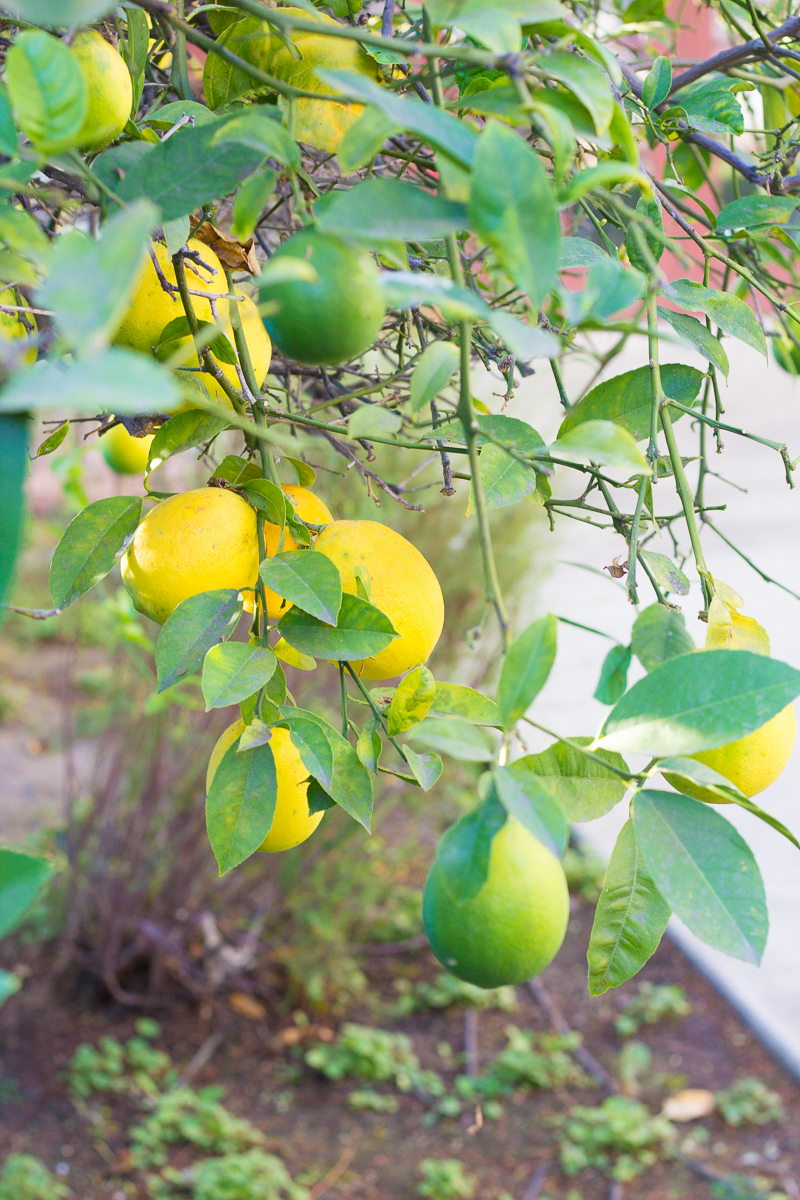 We're approaching our one year anniversary of buying this house. It's been the biggest project we've taken on together and it's been exhausting and incredible all at the same time. There is still tons of work we want to do, but we have come to realize that home ownership isn't a goal you check off, it's a forever process that we will continue to work at as long as we own this place.
This space has exceeded our dreams and and given us roots and foundation to come back to no matter where life takes us.  When we're home, we feel at ease and comfortable.  Most importantly, we spend every night eating dinner together either in the dining room or outside feeling that fresh citrus scented breeze, listening to the wind.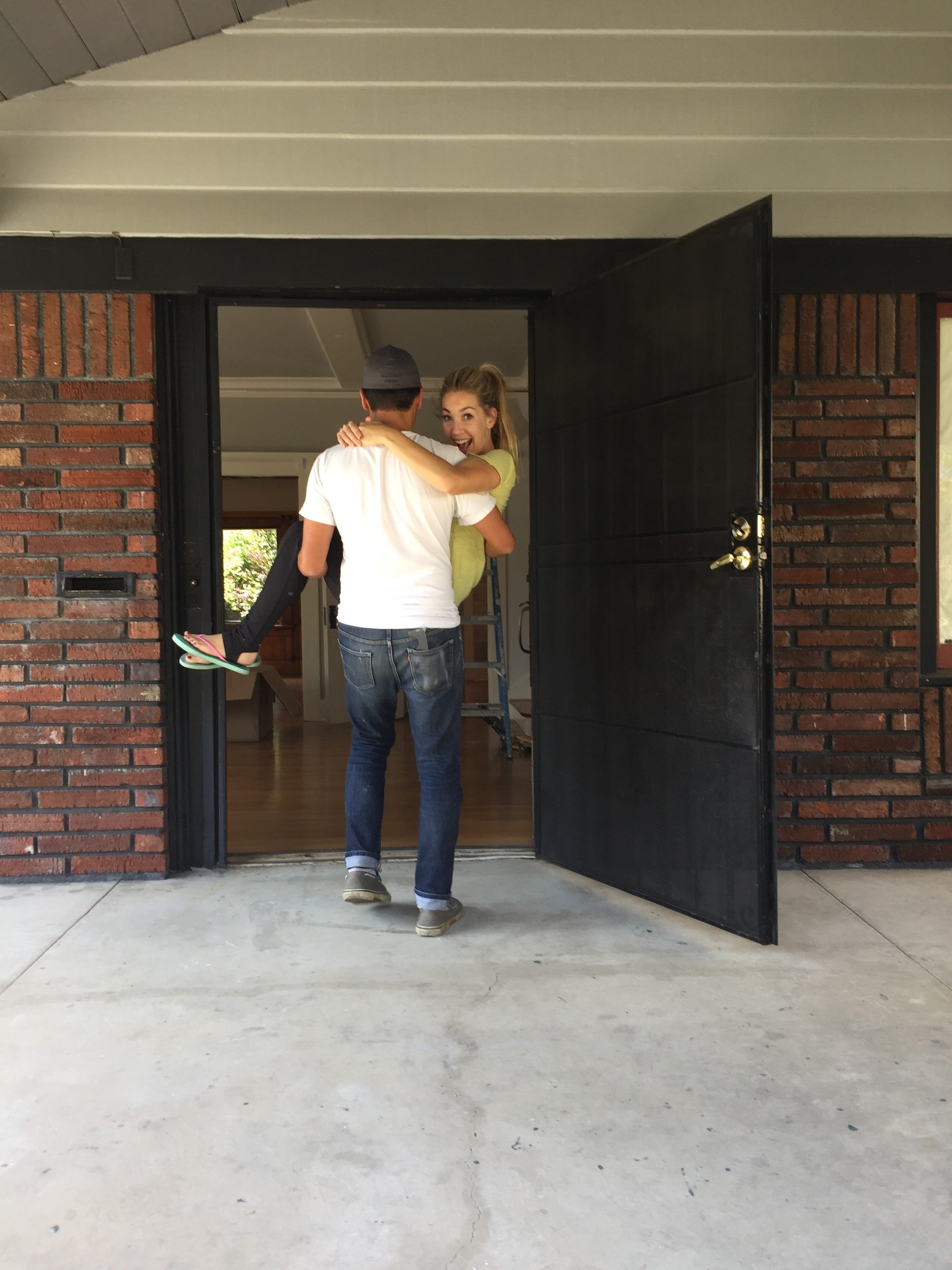 (P.S. if you guys want any more details on the remodel or other work that we have done around the house, just let me know!)