"Of all the beaches in the world, the beaches on Eleuthera are the most beautiful, and it isn't even close.  And the fact that you will almost surely be there all alone, to enjoy the beauty, makes the experience even more magical."
If you Google "The Best Island in the Caribbean," you are going to find hundreds of lists with dozens of different options.  Trust me, it is overwhelming.  We have had the opportunity to visit many islands in the Caribbean, but on our most recent trip, we found the absolute best one.  Instead of a list, I am just going to tell you like it is: Eleuthera in the Bahamas is the best place to visit in the Caribbean!  This is a place you are going to want to add to your bucket list.  And big changes are coming to the island, so you are going to want to keep reading, and then get to booking the flight ASAP!
As always, John (the world's #1 Instagram Husband) and I are looking for a few very specific things when we vacation:
Reduce the tourists:  We are into doing things that haven't been done a million times already.  We are looking to get as far off the beaten path as possible.
Increase the natural beauty:  Nothing compares to Mother Nature's beauty.  That's why we travel.  Plus the Instas are amazing, obv.
Turn up the culture:  New foods, new accents, new traditions, we can't get enough of it.
Eleuthera gave us all of these things and then some.  You literally won't find places like this anywhere else in the world.  And I can promise you that, as incredible as these photos look, the water is even bluer, the sand is even pinker, and the warm breeze is something that can only be fully appreciated if it is actually brushing against your skin.
1) The Sapphire Blue Hole:
Not many people know this about me, but one of my biggest fears in the world is deep water where I can't see the bottom #Creepy.  So when we ran into some locals and they told us about this gigantic hole in the middle of the forest with 40 foot deep water that you had to jump into and climb back out… let's just say I wasn't super stoked on this idea.  But then they said that the water is crystal clear, since the hole is connected to the ocean some 600 feet under the ground.   They weren't lying!  It took some courage to take the jump from about 15 feet up, but the water was so worth it. You can see our adventures of the Sapphire Blue Hole in the video at the top of this post!
2) The Glass Window Bridge:
In the most incredible natural land formation, the island of Eleuthera (which is super skinny and long) necks down to a one lane bridge.  On one side of the bride is the calm, shallow, turquoise waters that the Caribbean is famous for.  But on the other side of the bridge the ocean drops off a cliff down to hundreds of feet deep, which makes the water look a profound color of dark blue.  Turning from one side to the other, you cannot believe that the scene that you are taking in is real.  If you look closely in this part of the video, you can see a sting ray swimming on the shallow side!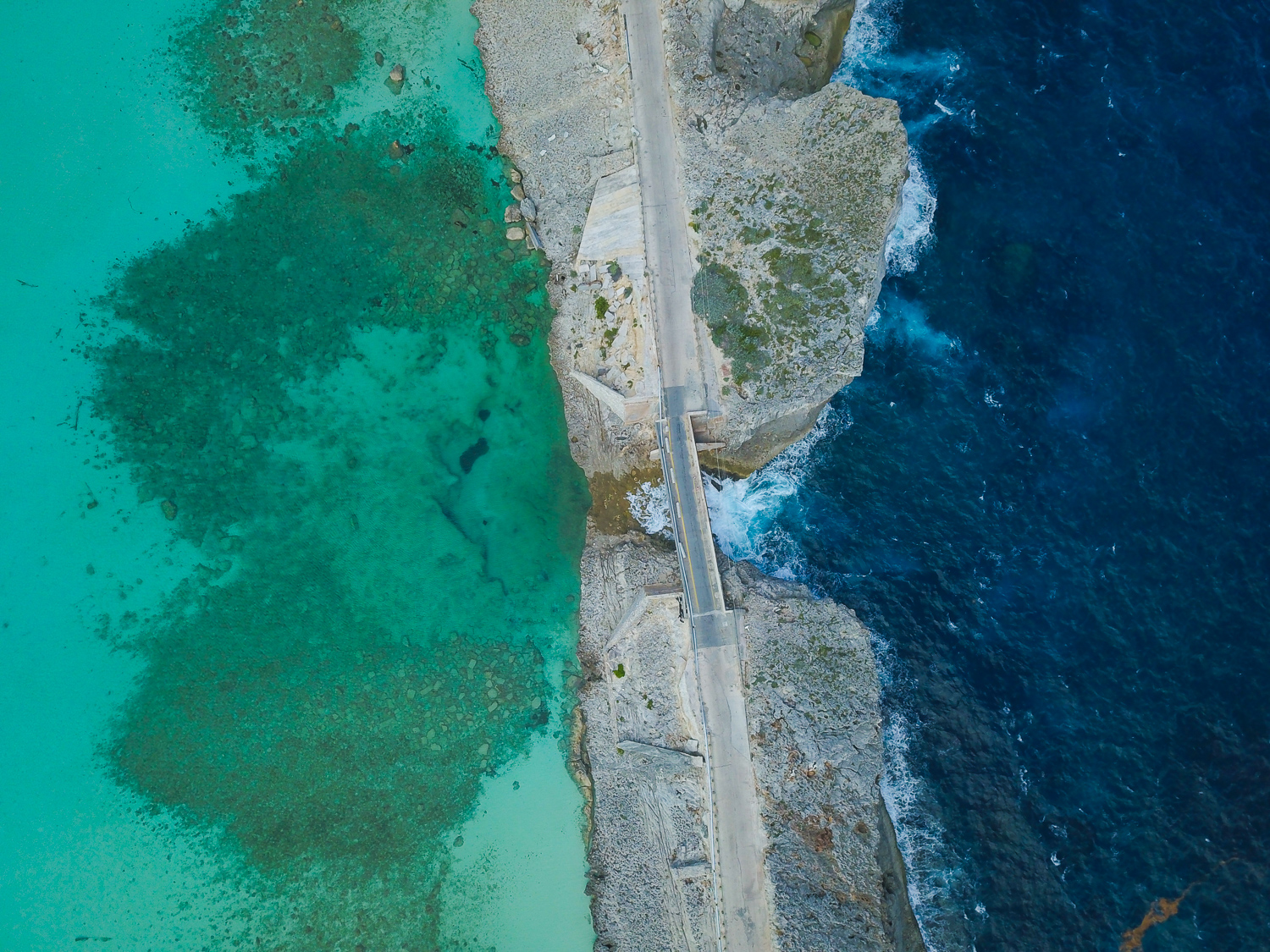 3) The Queens Baths:
Seriously, the name of these tidal pools says it all.  After a quick hike off the road, you climb down into an area filled with other-worldly pools that are full of crystal clear ocean water, while the waves come crashing against the rocks next to you.  Laying on my back, looking at the sky, while the waves threw up sea foam to drift down and land on my face is something that I will never forget.  The water is so clear, you literally cannot tell how deep the pool is, but don't worry, you can touch the ground.  And just like everywhere else on this island, there was NO ONE THERE when we were there.  John and I got a little crazy and skinny dipped in the pools, and I have never felt more like a real queen 🙂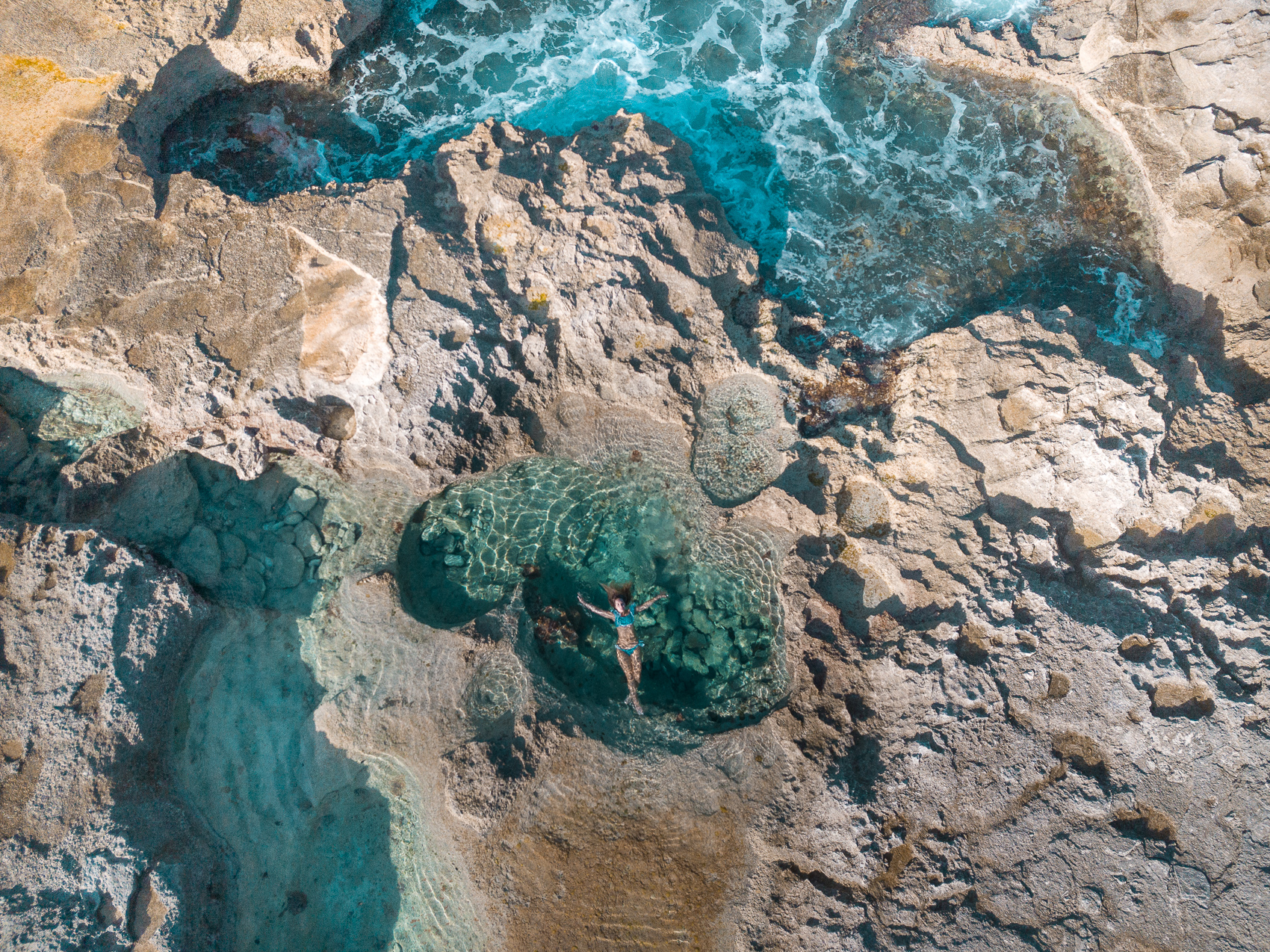 4) Take the Water Taxi to Harbor Island:
All of these little sandy islands are so close to each other, sometimes it is just a quick water taxi ride to the next one.  On the very northern end of Eleuthera (right past the Glass Window Bridge), there is a little dock where you can catch a water taxi for $5 a person.  The 15 minute ride is so fun, the boats are super fast and smooth, and you get to see the islands from a totally new vantage.  When you get there, rent a golf cart and visit the shops, see some pink sand beaches, and grab a snack at a little beach hut!
5) Spend All Day at the French Leave Beach:
The quote at the top of this blog is not a lie.  I have been to Hawaii, the BVIs, Malaysia, and so so many more places that are known for their beaches.  And nothing – seriously, NOTHING – compares to the French Leave on Eleuthera.  The sand is as soft as cotton and the lightest shade of pink.  Against the crystal clear water, the sand turns a color that I literally don't have words to describe.  The beach stretches for miles on each side, and we didn't see one person the entire time that we were there.  The waves were perfect – it gave us an entrancing soundtrack for the hours that we were there – and John spent quite a bit of time body surfing, just taking in the beauty of our surroundings.  I spend what felt like hours just looking at my hands under the water.  I just couldn't believe the clarity, the beauty, the purity of the ocean in this corner of the earth.  And for an extra treat, there are ruins of an old resort that was there that was lost in a hurricane!  That is just the icing on the cake that is this one-of-a-kind find for us in our travels. Oh, you also might want to check out the abandoned ruins of a Club Med Resort that once towered over this beautiful beach!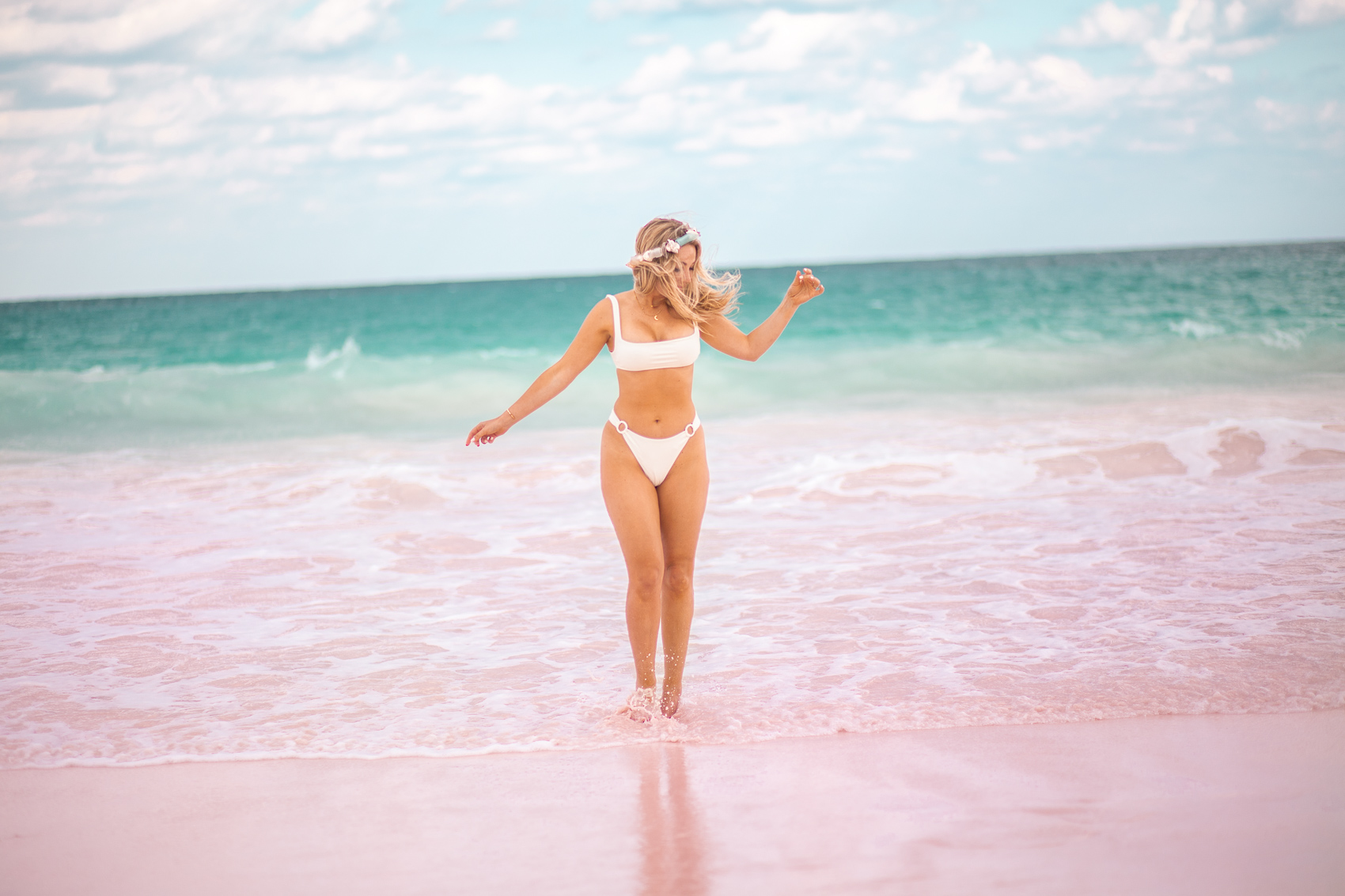 I know, I KNOW!  This is incredible.   I am sure that you are looking for flights right now.  So let me end with a couple tips for enjoying yourself on the island.
Tips and Tricks for a Trip to Eleuthera:
Where to stay: We stayed at Buttonwood Reserve and it was absolutely perfect.  These are full sized condos with complete kitchens, living rooms, balconies, and a private swimming pool. Buttonwood also has it's own private beach and golf carts to pack your things to and from! It's a Wonderful location in a middle position on the island, it's very new and fancy, and everything you will need for a home base.  Also, the owner is AMAZING and helped us with things like groceries and a rental car.  Go here, it is worth it!
Best Place to Eat: Without a doubt, it was this place called 1648 right by the French Leave Beach.  The food is amazing, only outdone by the views.
How to get there:  Nassau is one of the few international destinations that Southwest flies.  You cannot beat their cheap fares from Florida. From Nassau, Eleuthera is just a quick inter island flight. HERE is a link with more information on how to get there.
USD is accepted everywhere, since the country pegs its currency to the US. So you don't need any special money, though it is cool if you can get it.
Everyone here is SO NICE, so don't be shy.  Talk to a local and find something that isn't on this list to do!
And one last thing, when we were there, the talk of the island was that Disney and Tiger Woods had both bought land on the south side of the island to build resorts.  So what I am saying is that this place is not going to be unknown for long.  SO GET OUT THERE NOW!!!!
In a world that just keeps going faster and faster, I still think back to being on the beach, where time didn't matter.  We used the sun to get an idea of what time it was, and we let our tummies tell us when it was time to eat, and our eyelids tell us when it was time to take a rest.  Someone very wise told me once that in order to really find yourself, you have to be comfortable to being all alone –  no voices or cars or noise around you.  I felt like that while I was here, and I found a part of myself that I never knew was there.