Backpacking into the Big Island's Waimanu Valley
I worked myself up for several days for this mission. I knew it would be extremely hard – mentally, physically and emotionally. An abundance of internet research had me preparing for "the hardest physical journey I would ever do in my life." I tried to back out.  Two days before our planned start date, I called Clara, my cousin through marriage, who arranged this adventure. Clara assured me we would be fine and had several back up plans for "just in case" including the option to camp on the emergency helipad along the trail if we didn't think we could make it.  Somehow the option to sleep on an emergency helipad alleviated some of my anxiety…
Writing this now, on the other side of this journey, I've come to realize that there is a price to pay for your experiences –  and the price that I am willing to pay is high.  And for a place like this – so magical that the ancient Hawaiians buried their royalty here –  the price should be high.
Here, the air feels as if it hasn't been breathed in by anyone else before you, the waves feel like they haven't been swam in by anyone else before, and your toes make the only footprints in the sand on the entire beach.  The price I paid was worry, exhaustion, bug bites, bruises, comfort.  And it was a steal of a deal.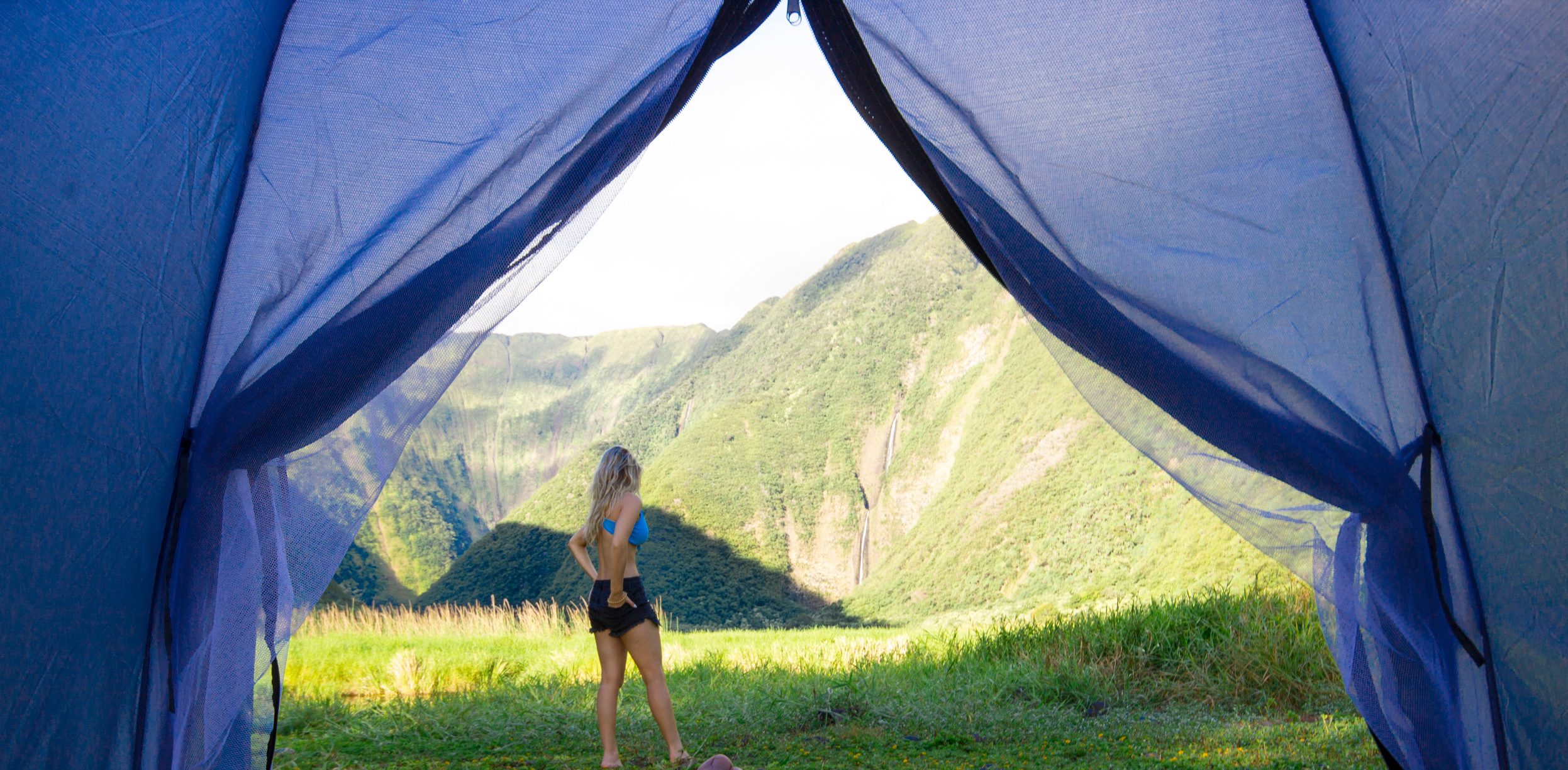 For some background: our group consisted of myself, my husband John, my brother-in-law Alex, John's cousin Clara, and her wife Juliet. The five of us are all about 30 years old and pretty fit.  Clara and Juliet had just gotten back from 6 months of backpacking in South America and are experts, while John, Alex and I had never backpacked before. The night before we were to leave, I barely slept… I was scared. When it comes to physical strength, I was the weakest link in this crew. I was worried that I might become too exhausted and hold the whole crew back. I worried that I would get hurt (I tend to be clumsy).  I worried and worried until I formed a nice sized lump in my stomach.
If you have the opportunity to make this journey, you should.  But if you are going to attempt this journey, you are going to have questions.  On the hour drive out to the trail-head I made a list of all of the questions I had about this adventure, and below I'll answer them all for you.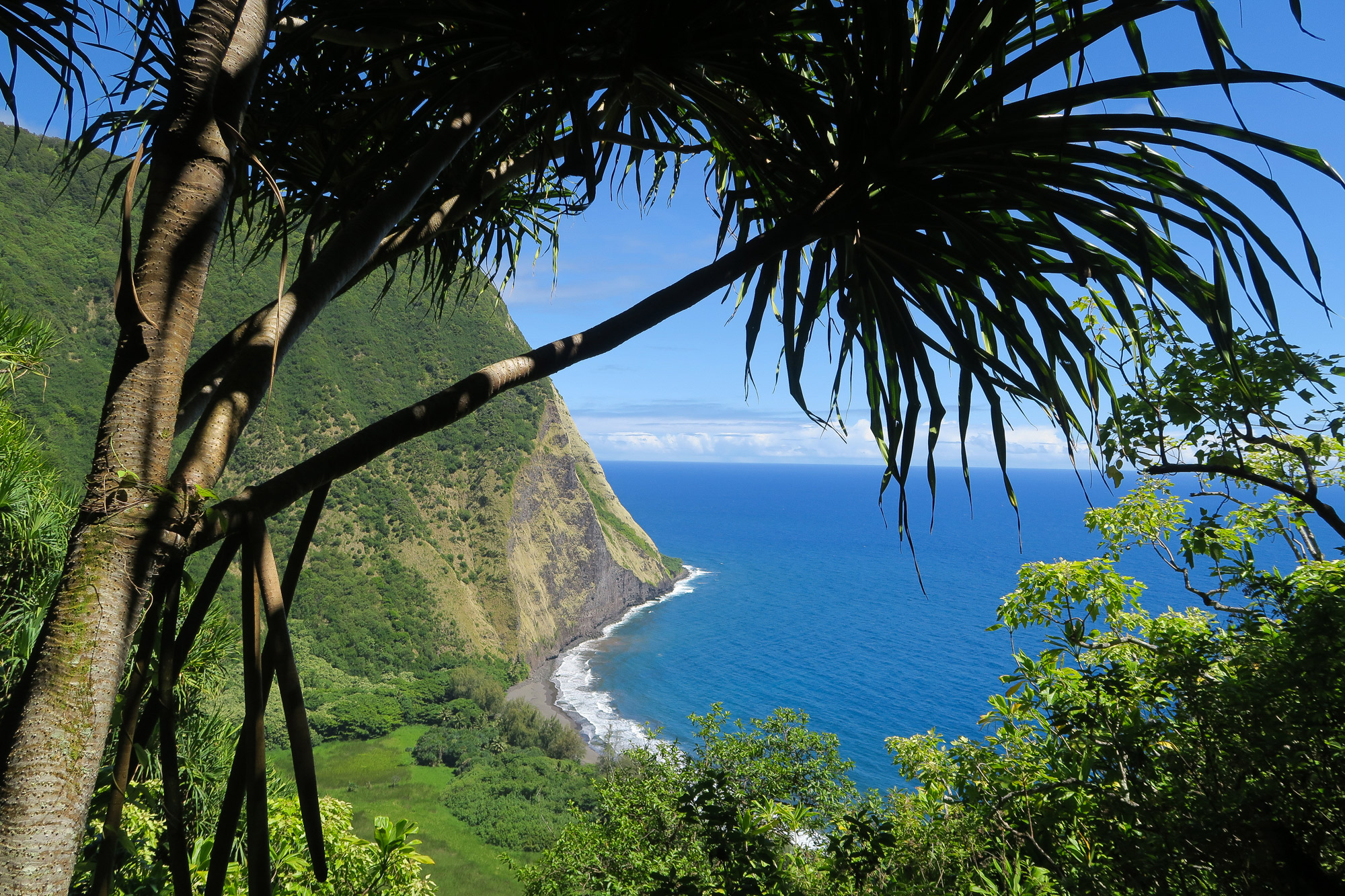 Gimme the Run Down
You start by hiking down the Waipio Lookout into the Waipio Valley. This road claims to be the steepest road in the United States with more than a 25% grade. From the bottom of the road you walk down a dirt road trail to the beach and immediately cross a river. You walk the length of the beach about a mile to reach the trail-head. From the trail-head, you ascend the first hill, cliff, mountain. It's roughly a mile of switchbacks going STRAIGHT UP, mostly exposed in the sun. After you reach the top, you start about 6 miles of moderate snaking trails (Called the Z trails) crossing 12 streams (all six miles are shaded).  Along these Z trails, there are four emergency helipads, which are also nice places to stop and take a rest (and places to camp in case of an emergency).  Finally, you start the descent into another mile of switchbacks down another cliff entering the Waimanu Valley. The final challenge is crossing the 2nd river into the camp ground.
How hard is it really?
It's hard. But we were prepared.  We knew we needed to make it to camp before dark, so we took a pretty steady pace and didn't stop for more than  a handful of five minute breaks (i.e we forded the rivers taking a grueling pace with meager rations, if you've ever played Oregon Trail). Everything I read suggested that the end of the hike (the descent into the Waimanu Valley) to be the hardest part. That was NOT my experience. The initial ascent up the first cliff face (Waipio side) is by FAR the hardest part on the way in and on the way out. The first mile was incredibly challenging, my heart rate was racing, I felt dizzy, I felt nauseous, I had to stop our pace multiple times to take in sugar. Mentally, this first hour took the biggest toll on me. I was very scared that I wouldn't be able to continue. We were in direct sunlight with little shade for an hour. After we made it to the top things really eased up and everything for the next 6 miles was shaded. The decent into camp was not as challenging as we prepared for, the worst part was crossing the river at the very end, with exhausted legs. My legs were shaking so much that I couldn't keep my feet steady and got some pretty gnarly bruises on my ankles. We planned for 7 hours to get to camp and we made it in 5 hours 20 minutes. With that being said, the level of difficulty of this hike is absolutely contingent on how wet things are and how physically fit you are. We hiked in July, several of the streams were completely dry, the trails were dry, and the rivers were relatively low. I wouldn't consider our trek to be dangerous at all, HOWEVER we all said many times that "if there were water here this would be brutal."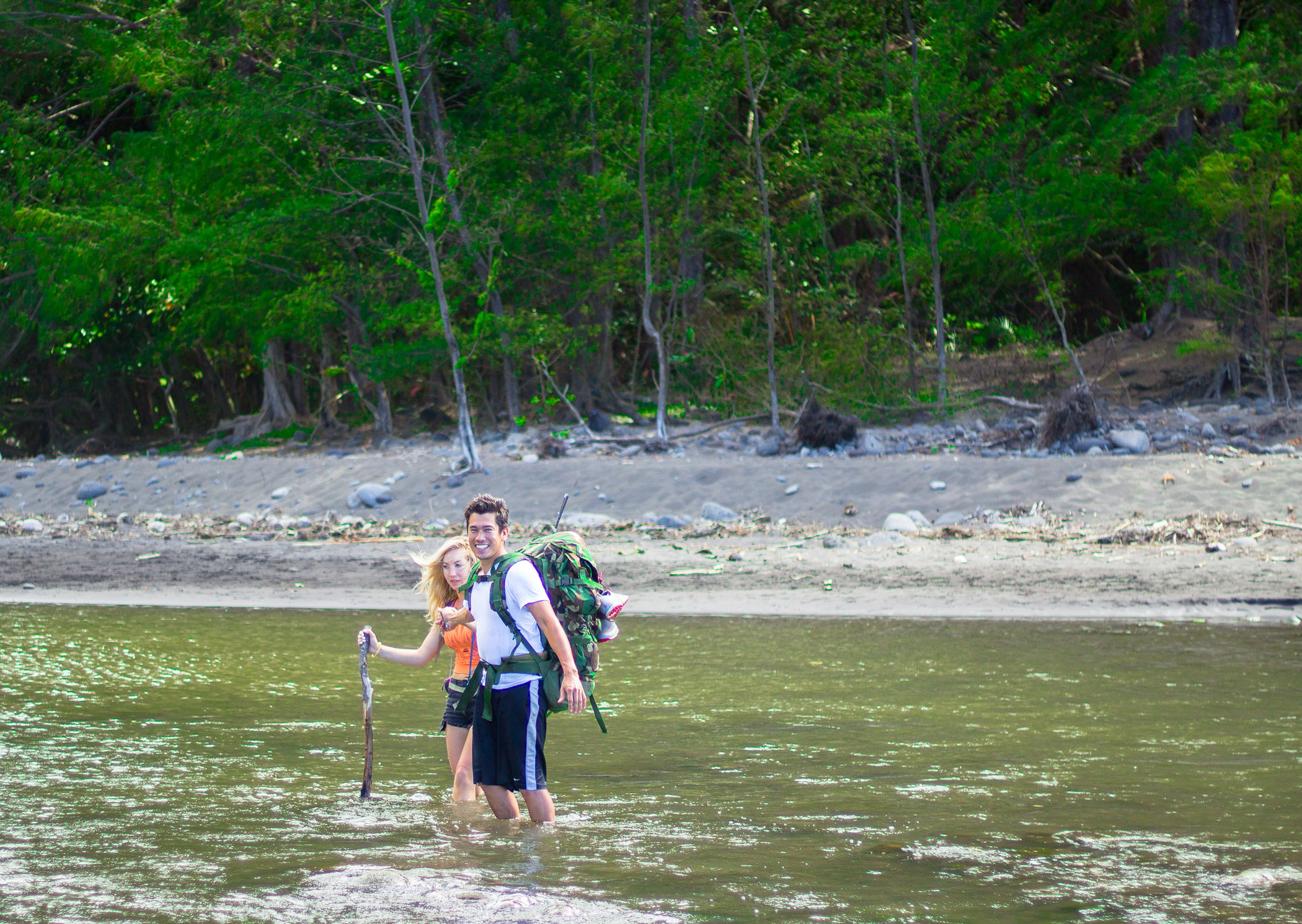 Is it worth it? How do you feel physically after the hike?
Imagine walking for more than 5 hours, feeling exhausted, shaking, tired, hungry, dirty, sticky with aching calves, blistered toes, bruises on both ankles from hitting rocks on the river crossings. Your legs are trembling for the last hour of the hike. There are abrasions where the pack hits your torso.  And then suddenly you feel flat ground, the trees clear and this – this is your view. This is your paradise, what you've been working for. You forget about your shaking legs and your hunger, and you are overcome with a complete feeling of accomplishment, pride, and awe. Your sore muscles are soothed by natures epsom salt bath, your blistered toes are comforted by cool, soft sand, your sticky skin is washed clean by Hawaiian rain water running through the clearest stream you have ever laid eyes on. Just look at these pictures, and you tell me if it's worth it.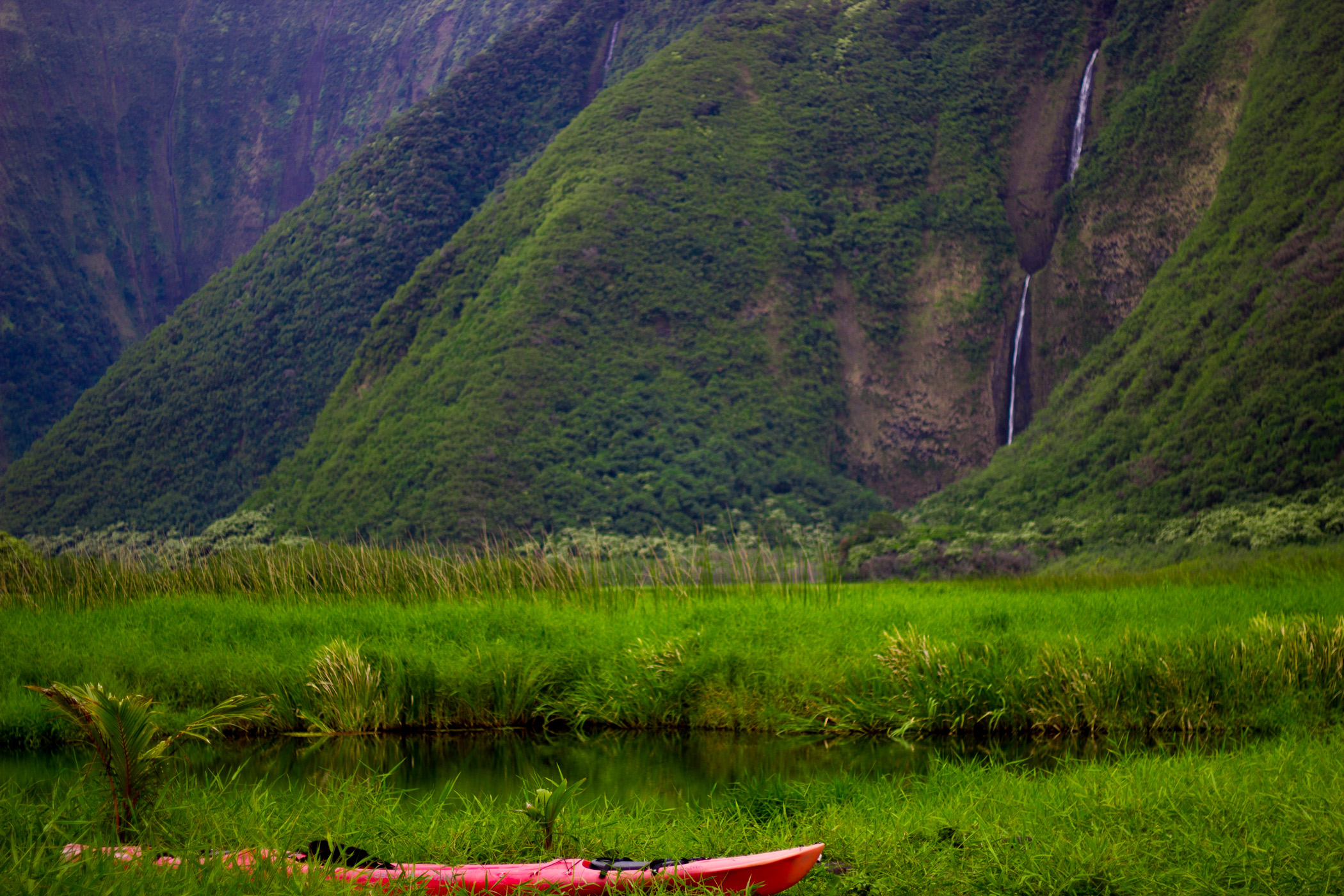 What's the deal with the waterfall?
To access the waterfall, you must hike approximately a mile from camp (each way).  The trail can get a bit overgrown, but feels like a walk in the park compared to what you already did.  Definitely worth it. Oh, and here is one of my favorite tips shared with me by the same local family who helped us fish: along the trail to the waterfall there are an abundance of 'awapuhi,' also known as Shampoo Ginger. For centuries, Hawaiian women have used these fragrant flowers for shampoo and soap.  If you bang the flower on some rocks to loosen up its contents, you can then squeeze (a lot) of heavenly scented gel into your hands for use as shampoo or after bathing as a leave in conditioner/lotion. Trust me, ladies, you will want to try this.  Keep in mind that these flower heads hide underneath leaves so once you recognize the leaves you'll notice the flowers everywhere.

Can you really catch food out there?
Yes, if you know what you're doing. We brought a fishing pole, a machete and knives. We had ZERO luck fishing in the ocean with the pole because the waves were too strong and there wasn't a good place to drop a line. We met a local family there who were absolutely incredible. They taught us their methods for fishing and catching prawns and we had an abundance of the two. They threw a net between the river and the ocean and caught about 20 mullet (white fish) in less than five minutes (you could also catch fish with a pole at this river delta, as well). They showed us how to wrap the mullet (after cleaning of course) in banana leaves and then steaming them in ocean water. Their son also showed us how to hand catch prawns by lurking in the river in the dark and using our head lamps to illuminate the eyes of the prawns. We used hand nets to scoop them up, and also a spear to stick them (we found the spear and nets at the campground left by previous campers).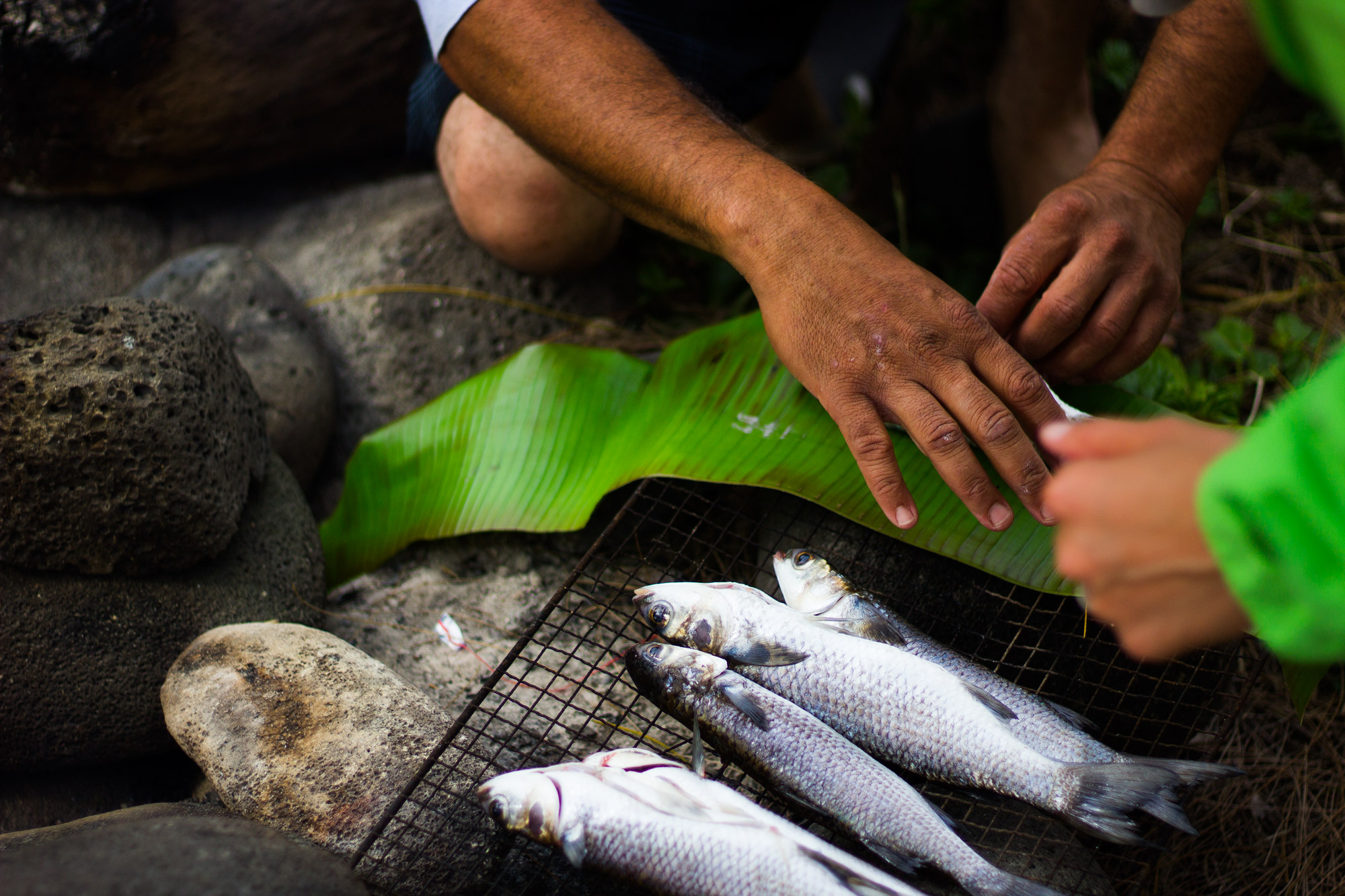 Do we need to get a ride down the Wiapio road?
Half of our group paid a tour company for a drop off and the other half walked. Both were great options. Hitch hiking down with a local is an option but less viable when you plan to leave super early in the morning (highly recommend this for safety).  An alternate option is calling the Waipio valley tour company and paying them for a drop off at the bottom of the hill to save strength and time. On the way back up you will definitely want a ride – we just asked a local at the beach who was leaving for a ride up.
Are there bugs?
Okay, I'm losing tons of adventurer street cred with this one, but I hate bug bites and I was quite concerned with the level of mosquitos going into this… The answer is YES. When you get to the top of the ascent you'll come to a place with the first trail sings for "falling rocks" and a place that looks like an obvious place to take a quick break. This is where you should get your bug spray out and spray down for the next 6 miles of shaded streams with mosquitoes. Luckily, the camp ground is right on the beach and the winds prevent most bugs from bothering you there. However, the main source of drinking water at camp is in the jungle and surrounded by mosquitoes, so spray up before making water trips. (you're welcome in advance for this tip)
Is there fruit available on the trail or at camp
Nope. Don't count on harvesting fruit for meals. We found some coconuts and a few guavas and ate them as snacks but that's about it (if you go during guava season there may be more of these).  Please watch a YouTube video on how to open a coconut before going on this adventure… it's not as easy as you'd think and I ended up teaching a couple from Pittsburgh how to open coconuts in exchange for their boogie board… hey, it's the wild, you gotta do what you gotta do.
Packing Suggestions?
Things I wish I would have packed:
Something to sit on. It was very hard to get comfortable sitting on campfire rocks, a little camp chair would have been amazing and worth hiking in.
Soap (biodegradable of course)
Pillow (we all planned to use our clothing as pillows and we were uncomfortable)
So glad I packed:
Flipflops/watershoes for walking through streams and around camp
Babywipes/wet wipes
Salt/spices (made that fresh fish all the better)
Coffee/wine. Luxurious, yes, but oh so worth it
Nutella
Wish I would have left at home:
Pretty much all of my clothing, it was very hot during the day and at night I didn't use most of the clothing I brought
Sleeping Bag- again, it was HOT at night and a thin blanket would have been more than sufficient and saved room in the packs
Does it get cold at night?
It got HOTTER during the night. The only time the entire trip that I was cold, was swimming in the waterfall
Other notes and tips:
In retrospect I would have chosen higher numbered campsite (8 or 9) for their proximity to the drinking water, and their access to the sandier parts of the beach. You MUST reserve a campsite and have a permit in advance, you can do so here.
I was surprised at the amount of "stuff" available left by previous campers for your camping pleasure, including the wire grill shown in the fishing pictures
There are composting toilets that are pleasant by camping standards
AT&T does not have service for 99% of this adventure, there are, however, tiny pockets of service along flatter parts of the trail incase you have to get that Instagram up ASAP 😉
THE MOST IMPORTANT QUESTION OF ALL: CAN I DO IT??
Let me be the first to tell you, "yes, you can!"  Now that you know what to expect, you can plan out your trip to make sure that the weather is going to be good (so the streams aren't too high) and to make sure you will have time to make the trip by sundown.  If you need to take your time, you can take your time, and if anything gets really out of hand, you can stop at a helipad for the night.
It is hard, yes, but that is the price that Hawaii will take from you in exchange for an experience that you cannot get anywhere else in the world.  So get your tent and your backpack and get out there!!